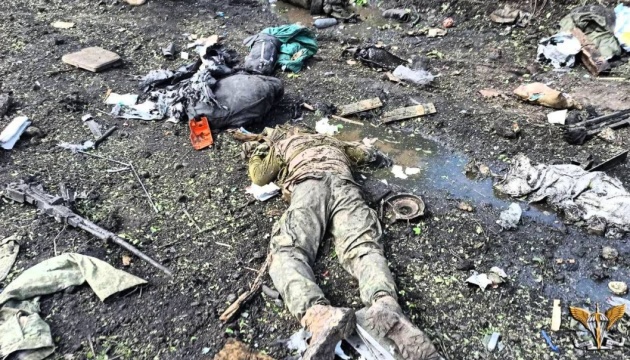 Enemy lost more than 2,700 soldiers last week – Ukrainian General Staff
Ukraine's defense forces eliminated more than 2,700 Russian troops last week.
Pavlo Kovalchuk, the spokesperson for the General Staff of the Armed Forces of Ukraine, said this on Ukrainian television, Ukrinform reports.
"Last week, the aircraft of the Ukrainian defense forces carried out 79 strikes on areas where enemy personnel, weapons and military equipment were concentrated, 18 strikes on anti-aircraft missile systems and two more strikes on the enemy's EW stations," he said.
According to him, last week, units of the Ukrainian rocket forces and artillery hit seven areas of concentration of enemy personnel and military equipment, 12 anti-aircraft missile systems, two command posts, eight ammunition depots, 58 artillery pieces and two electronic warfare stations of the enemy.
"In total, over the past week, the enemy lost more than 2,700 occupiers, 40 tanks, 86 armored fighting vehicles, 217 artillery systems, 9 multiple rocket launchers, 6 air defense systems, 1 aircraft, 155 UAVs, 11 cruise missiles, 149 vehicles and 19 units of special equipment," Kovalchuk added.
From February 24, 2022 to October 2, 2023, Ukraine's defense forces eliminated about 279,080 Russian invaders, including 510 in the past 24 hours.