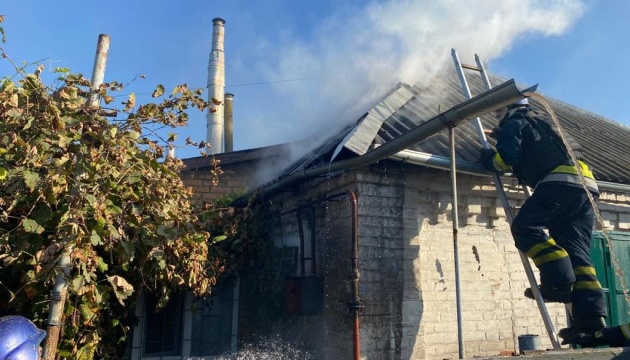 Enemy attacks Nikopol district with kamikaze drones
The Russian army attacked Nikopol and the Marhanets community, Dnipropetrovsk region, with two kamikaze drones.
Serhiy Lysak, the head of the Dnipropetrovsk Regional Military Administration, said this in a Facebook post, Ukrinform reports.
"Nikopol district. The district center and Marhanets community. Today, the Russian army attacked these territories again. The enemy hit with two kamikaze drones. It fired several times with heavy artillery. As a result, a private house caught fire," he wrote.
Firefighters extinguished the fire. As many as four houses were damaged as a result of the attack. A utility company, a power line, and a gas pipeline were damaged.
Dry grass also caught fire, it was extinguished by firefighters.
No casualties were reported.
As reported, the Russians attacked Synelnykove district at night. A private house and an outbuilding were destroyed.
Photo: Serhiy Lysak/Facebook