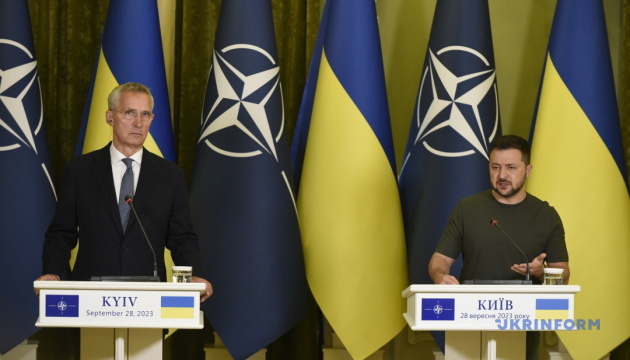 Zelensky asks NATO countries for additional air defense systems
President Volodymyr Zelensky is counting on NATO member states to help supply additional air defense systems to protect the Ukrainian sky from Russian attacks on critical infrastructure.
He said this during a joint press conference with NATO Secretary General Jens Stoltenberg in Kyiv, an Ukrinform correspondent reported.
"We separately discussed the situation with Russia's expected attacks on Ukraine's critical infrastructure and in this regard discussed the possibility of supplying additional air defense systems by member states. The Secretary General agreed to make his efforts to help us, to support us in this matter, to mobilize the member states of the Alliance," the Head of State said.
Zelensky also spoke about the massive attacks by Russians on Ukrainian territory with kamikaze drones and emphasized the need for help from partners to protect against Russian terror.
"Last night alone, Russian terrorists used more than 40 Shaheds. And so almost every night. In the context of such intense attacks against Ukrainians, against our cities, against our ports, which are important for global food security, we need a corresponding intensity of pressure on Russia and a corresponding strengthening of our air shield. The world must see that the Russian terror is losing, so that our common values will ultimately win," Zelensky emphasized.
As reported, at night on September 28, the Armed Forces of Ukraine in cooperation with the Air Defense Forces of Ukraine destroyed 34 of 44 enemy Shahed attack drones.