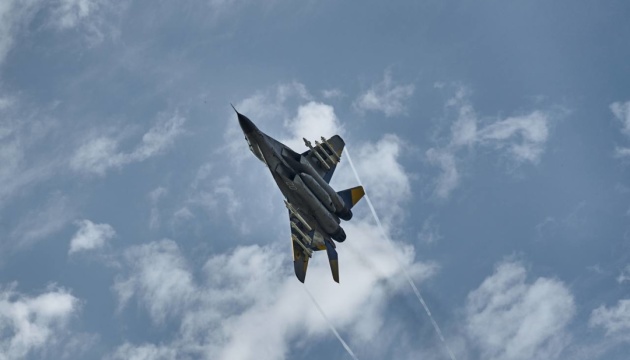 War update: Ukrainian forces launch 18 airstrikes on enemy positions
The Ukrainian Air Force launched 18 strikes on enemy positions in the past 24 hours, with 25 combat engagements recorded across the front line.
The General Staff of the Armed Forces of Ukraine said this in a situation update posted on its Facebook page, Ukrinform reports.
"Ukraine's defense forces continue to conduct defensive operations in the east and south of Ukraine, an offensive operation in the Melitopol sector and offensive actions in the Bakhmut sector, destroying the enemy, liberating temporarily occupied territories step by step and consolidating their positions on the achieved lines," the post said.
At the same time, the enemy launched 16 missile strikes, 72 airstrikes and 65 MLRS attacks on the positions of Ukrainian troops and on civilian infrastructure. Russian terror attacks left civilians killed and wounded. Private residential buildings, apartment blocks, a hotel, a kindergarten and other civilian infrastructure were destroyed or damaged.
The enemy launched airstrikes on Leonivka in the Chernihiv region, Popivka and Ponomarenky in the Sumy region, Synkivka, Ivanivka and Kyslivka in the Kharkiv region, Nadiia, Novoiehorivka, Nevske and Bilohorivka in the Luhansk region, Spirne, Vasiukivka, Sieverne, Avdiivka, Marinka, Novomykhailivka, Urozhaine and Zelene Pole in the Donetsk region, Verbove and Robotyne in the Zaporizhzhia region, and Beryslav, Odradokamianka, Olhivka and Lvove in the Kherson region.
About 150 settlements in the Chernihiv, Sumy, Kharkiv, Luhansk, Donetsk, Zaporizhzhia and Kherson regions came under artillery fire.
On September 25, Russia attacked Ukraine with 12 Kalibr cruise missiles, 2 P-800 Oniks anti-ship missiles and 24 Iranian-made Shahed-136/131 drones to target the port infrastructure of the Odesa region and other civilian infrastructure. Ukrainian air defenses destroyed 11 Kalibr cruise missiles and all 24 enemy Shahedis.
In addition, overnight, the occupiers again attacked Ukraine with Shahed-136/131 kamikaze drones. Information regarding the consequences of this terror attack is currently being clarified.
In the past 24 hours, the Ukrainian Air Force launched 11 strikes on the areas of concentration of enemy personnel, weapons and military equipment, as well as seven strikes on the enemy's anti-aircraft missile systems.
Units of the Ukrainian rocket forces struck nine artillery pieces, an area of concentration of personnel and military equipment, an ammunition warehouse and the enemy's EW station.