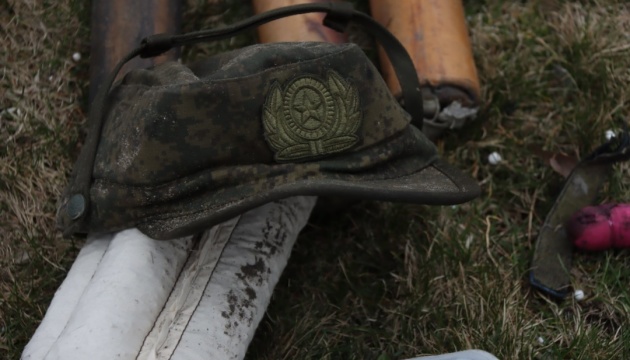 Defense forces eliminate more than 200 invaders in Bakhmut direction in a day
Intense fighting continues in the eastern direction, the defense forces decimated more than 200 invaders, a tank, a Pion self-propelled gun, and six ammunition depots during a day.
"Currently, intensive fighting is going on in the eastern direction. Over the past day, the enemy shelled the positions of our defenders more than 1,100 times. In particular, in Bakhmut direction, artillery of various systems was used 534 times, six airstrikes were launched, and eight combat engagements took place. Our defenders managed to decimate more than 200 occupiers, the enemy keeps trying to regain the lost positions near Klishchiyivka and Andriyivka but has no success. Our military continues to gain a foothold on the reached frontiers to prevent the enemy from breaking through the defense in this direction. We also continue offensive operations on the southern flank, in particular, we destroy enemy heavy equipment, tanks, and artillery," Illia Yevlash, head of the press service of the Eastern Group of the Armed Forces of Ukraine, said during the United News telethon.
In particular, according to the spokesman, the defense forces managed to destroy one tank, two armored fighting vehicles, a Pion self-propelled gun, and six ammunition depots over the past day. In addition, intelligence found and destroyed an UAV command post.
He also reported that the Bakhmut-Horlivka highway was within the reach of mortar and artillery systems of the defense forces. This greatly complicates any enemy logistics in this direction.
Speaking about the situation in Kupyansk and Lyman sections of the front, Yevlash reported that the enemy was forming assault groups there.
"The enemy still has forces there that can be used effectively, but new personnel are gathered from those they managed to gather. There is no need to talk about their quality. Indeed, the enemy is completing the preparation of the 25th army there and is also forming assault units which will be used further in an attempt to break through our defense lines. However, we are constantly strengthening ourselves, continuing to build mine-engineering and explosive barriers as evidenced by the repulse of the enemy the day before, their heavy losses," the spokesman said.
According to him, there are currently no combat engagements in Lyman-Kupyansk direction but artillery is being used very actively: over the past day, the enemy hit the Ukrainian positions 556 times and used aviation 11 times. Also, the enemy uses artillery at extreme distances to make it more difficult for the Ukrainian military to hit it.