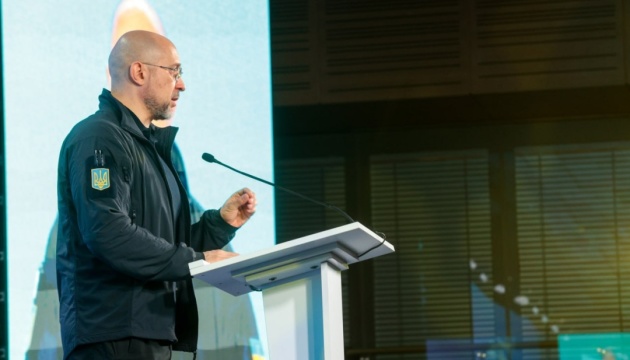 PM Shmyhal: Fortifications need to be built, enhanced across all directions
Ukrainian Prime Minister Denys Shmyhal insists that an effective network of fortification structures should be created as soon as possible to prevent Russians from advancing.
The relevant statement was made by Ukrainian Prime Minister Denys Shmyhal at the Regional Economic Forum in Kyiv, an Ukrinform correspondent reports.
"We can see how Russians have entrenched in the Zaporizhzhia direction over six months. We need to entrench absolutely no less in all directions across the front line," Shmyhal said.
In his words, there are enough funds for the construction of military engineering and technical fortification structures for defense purposes in certain regions of Ukraine. The Ukrainian government is ready to provide support for such projects from the reserve fund.
"Currently, we are working with the newly appointed Minister of Defense and the Ministry of Defense in the regions and areas, where there is such need," Shmyhal added.
According to the Prime Minister, Ukraine should ensure the ability to protect the areas that have already been liberated.
"Hence, we need to create an effective line of fortifications. We must protect our territories. In my opinion, it is also part of recovery elements, because it allows us to restore normal life and not to worry that the enemy may recapture some of our territories during their counteroffensive," Shmyhal noted.
According to him, Ukraine has created a relevant infrastructure to secure and monitor critical infrastructure protection. A number of objects were selected, where active and passive protection measures are already in effect.