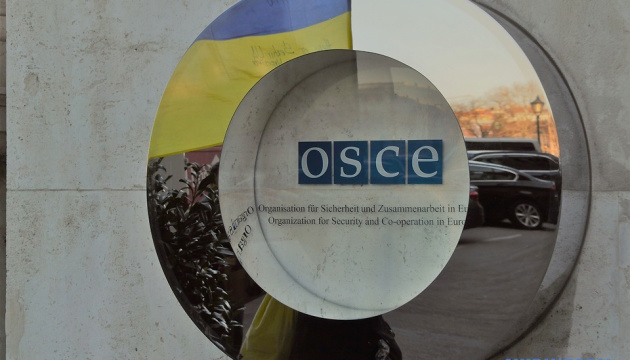 Ukraine at OSCE: Counteroffensive requires continuous supply of weapons, long-range missiles, aircraft
Ukrainian troops have already liberated 260 sq km of territory in the course of the counteroffensive in the south, and a continuous supply of the necessary weapons, including long-range missiles and combat aircraft, is needed for further effective progress.
"Every day, service members of the Armed Forces of Ukraine continue to liberate Ukrainian territories captured by Russian invaders. Despite extensive minefields and multi-level defense lines created by Russian troops on the front line, our troops continue to conduct counteroffensive operations. The other day, Ukrainian troops advanced on the western part of the front in Zaporizhzhia region and also liberated two villages (Klishchiyivka and Andriyivka) south of Bakhmut in Donetsk region," Deputy Permanent Representative of Ukraine to International Organizations in Vienna Natalia Kostenko said during the meeting of the OSCE Forum for Security Co-operation, an Ukrinform correspondent reports.
She added that Ukrainian troops had defeated three Russian brigades during the recent military operations near Bakhmut, and even the use of all available reserves in this direction had not helped the Russian side.
"Our troops conducted a successful operation that made it possible to break through the defense line of the Russian troops and capture the necessary bridgehead for further advance. In general, since the beginning of the counteroffensive operation, the Defense Forces of Ukraine have successfully liberated more than 260 square kilometers of territory," Kostenko said.
Ukraine's representative expressed gratitude to the partners for the provided security assistance and emphasized the importance of its continuation.
"In the face of the ongoing brutal war, international security assistance to Ukraine is more important than ever. In order to seize the moment and effectively move forward towards full liberation, a continuous supply of the necessary weapons to Ukraine, including long-range missiles, combat aircraft and equipment for rapid demining of liberated territories, is crucial," Kostenko noted.
In her speech, the diplomat also informed the delegations of the participating states about Russia's continued terrorist attacks on civilian and critical infrastructure facilities in Ukraine.