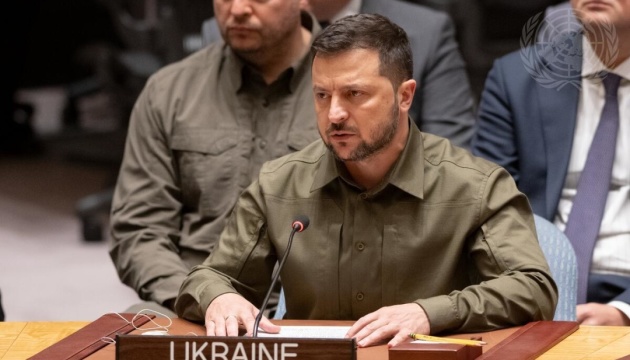 Zelensky at UN names two steps for complete cessation of hostilities
Ukrainian President Volodymyr Zelensky has named two points the implementation of which will help ensure the complete cessation of hostilities.
He said this in his remarks to the UN Security Council on Wednesday, September 20, according to an Ukrinform correspondent.
Video: Office of the President of Ukraine
"I would like to focus on territorial integrity. This is an element of both the UN Charter and our Peace Formula that is inextricably linked to the issue of clearing the territory from the occupiers. Occupation is an inexhaustible source of dynamite under the international rules-based order. So, I will provide examples of concrete steps to be taken for the security architecture to be strong. Using Ukraine as an example. Concrete things. Concrete as we, Ukrainians, are," Zelensky said.
He stressed that the first point was the full withdrawal of all Russian troops and military formations, "including the Russian Black Sea Fleet or its leaky remnants, as well as the withdrawal of all mercenaries and paramilitary formations of Russia from the entire sovereign territory of Ukraine within our internationally recognized borders as of 1991."
Zelensky said the second point was the full restoration of Ukraine's effective control over the entire state border and exclusive economic zone, including in the Black and Azov Seas, as well as in the Kerch Strait.
"In fact, only the implementation of these two points will result in an honest, reliable, and complete cessation of hostilities," Zelensky added.
Photo: UN