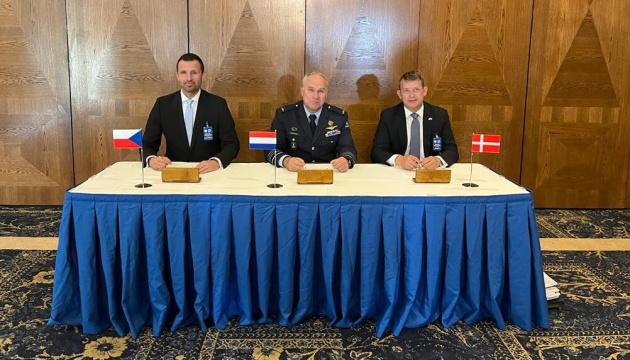 Czechia, Denmark, the Netherlands strike deal on more defense aid to Ukraine
The Czech Republic agreed with Denmark and the Netherlands that, with their financial support, it would supply Czech weapons to Ukraine.
The corresponding agreement was signed on Tuesday at the U.S. Air Force's Ramstein base in Germany during a meeting of the Ukraine Defense Contact Group, Ukrinform reported with reference to the Ministry of Defense of the Czech Republic.
"Specifically, it will be about the supply of additional tanks, howitzers, small arms, infantry fighting vehicles, anti-aircraft defense equipment, and electronic warfare equipment or ammunition from companies in our defense industry," said Deputy Minister of Defense of the Czech Republic, Daniel Blazkovec, who signed the letter of intent together with the heads of the defense departments of Denmark and the Netherlands.
According to the Ministry, the agreement provides an excellent opportunity for Czech companies. Kyiv will receive both modern Czech weapons and upgraded equipment that is already in service with the country's armed forces.
The pilot project will involve the transfer of 15 modernized T-72EA tanks set to be delivered in the coming months.
For the Czech Republic, this is not the first project to supply weaponry paid for by another government. In a tripartite project involving the U.S. and the Netherlands, 45 (of a total of 90) modernized T-72 tanks have already been sent to Ukraine. In addition, projects for the supply of the MR-2 (Viktor) anti-aircraft systems and passive surveillance devices have been completed or are underway.
Further negotiations on military equipment donations continue depending on the requests from the Ukrainian side.
"We will receive information from Ukraine about the current need for technologies, Czech companies will present their proposals to us, and then we will lay out everything before our foreign partners who will finance the project," reports the Agency for Intergovernmental Defense Cooperation, which is part of the Ministry of Defense.
Since the outset of the war, the Czech Republic has been one of the most active supporters of Ukraine in the matter of arms supplies.
On September 19, the Ramstein base hosted 15 meetings of about 50 state delegations, which provide military support to Ukraine to help the nation fight off Russian aggression.