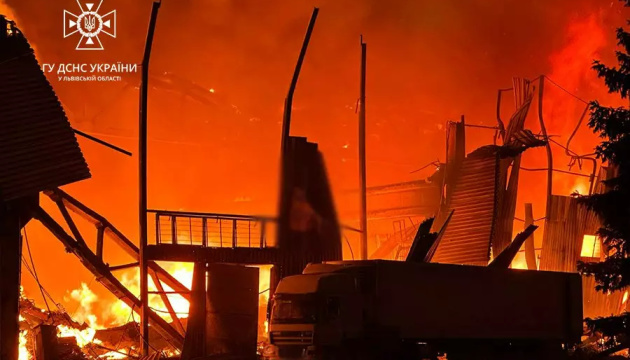 Lviv-based humanitarian aid warehouses on fire following Russian overnight attack
Following Russia's overnight drone attack on the city of Lviv, humanitarian aid warehouses caught fire. Multimillion losses are likely to have been suffered.
The relevant statement was made by Lviv Mayor Andrii Sadovyi on Telegram, an Ukrinform correspondent reports.
"The elimination of the consequences of the terrible attack on the city of Lviv has been lasting for three hours now. In this area, humanitarian aid, food and chemical warehouses are located. The fire spread to about 10,000 square meters," Sadovyi noted.
In his words, the consequences are extremely complex, including multimillion losses.
"I have just spoken to the head of Caritas [international charitable foundation – Ed.]. They have recently received humanitarian aid shipments – warm items, clothing, footwear, generators – in order to send them all over Ukraine from Lviv. Now it's all on fire. Also, there were the warehouses containing wooden windows and doors. This is one of the largest fires in terms of destruction," Sadovyi added.
A reminder that, on the night of September 19, 2023, according to the preliminary data, Russia attacked the Lviv region with 18 Shahed-type drones. Three of them hit industrial warehouses in the city of Lviv. One man was found dead under the rubble.
Photo: Ukrainian State Emergency Service