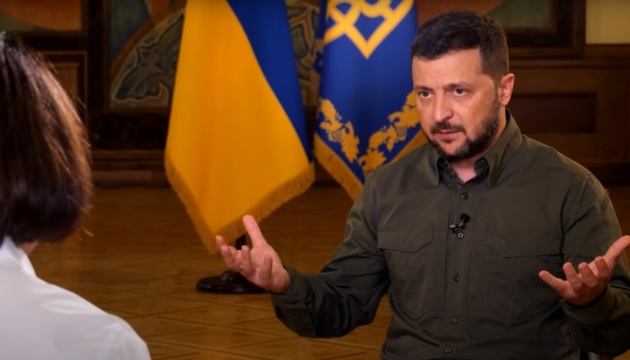 President Zelensky: Counteroffensive not very fast, but we are moving forward every day
Ukraine's counteroffensive is not very fast, but Ukrainian forces are moving forward and liberating the temporarily occupied areas every day.
The relevant statement was made by Ukrainian President Volodymyr Zelensky in an interview with CBS News, an Ukrinform correspondent reports.
"It's a difficult situation. I will be completely honest with you. We have the initiative. This is a plus. We stopped the Russian offensive and we moved onto a counter-offensive. And despite that, it's not very fast. It is important that we are moving forward every day and liberating territory," Zelensky told.
The Head of State mentioned that Ukraine needs to liberate its territory as much as possible and move forward.
"We need to liberate our territory as much as possible and move forward, even if it's less than [half a mile or] a hundred [yards] we must do it. We mustn't give Putin a break," Zelensky stressed.
In his words, Russians needs to know that Ukraine has every moral right to attack any places they use to launch missiles.
"You do know that we use our partners' weapons on the territory of Ukraine only. And this is true, but these are not punitive missions, such as they carry out killing civilians. Russia needs to know that wherever it is, whichever place they use for launching missiles to strike Ukraine, Ukraine has every moral right to attack those places. We are responding to them saying: 'Your sky is not as well protected, as you think'," Zelensky explained.
According to the President of Ukraine, by killing civilians, Putin wants to break Ukrainians.
"By choosing civilian targets, Putin wanted to achieve exactly this – to break [us]. This person who has made his way with such bloody actions, with everything he has said, cannot be trusted. There is no trust in such a person because he has not been a human being for a long time," Zelensky concluded.
Photo: Office of the President of Ukraine