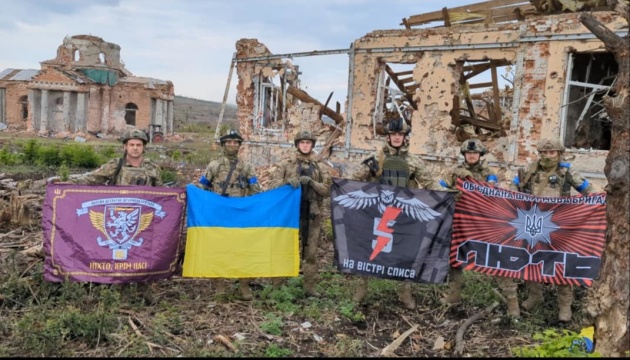 Klishchiivka's de-occupation creating bridgehead for further offensive – AFU
Liberating the Donetsk region's Klishchiivka from Russian occupiers has created a bridgehead, allowing the Armed Forces of Ukraine (AFU) to develop further offensive actions.
The relevant statement was made by Illia Yevlash, the Head of the Press Service of the Eastern Group of the Armed Forces of Ukraine, during a nationwide telethon, an Ukrinform correspondent reports.
"Thanks to the heroic and brave actions of our defenders from the 80th Separate Air Assault Brigade, the 5th Separate Assault Brigade and the Fury Joint Assault Brigade of the National Police of Ukraine, [the Donetsk region's] Klishchiivka has been officially liberated from the occupiers today. Now, we have gained a bridgehead, allowing us to develop further offensive actions in the future and liberate our land from the occupiers," Yevlash told.
In his words, Klishchiivka's de-occupation primarily allows Ukrainian forces to establish control over the logistics routes used by Russian troops to deliver supplies to the temporarily seized town of Bakhmut.
Additionally, this has resulted in the exposure of flanks, namely the southern one, which will enable Ukrainian warriors to advance deeper into the enemy's lines and deliver more accurate strikes, using different artillery systems.
According to Yevlash, Ukrainian defenders continue gaining a foothold there and are carrying out stabilization measures, including demining efforts.
At the moment, extensive battles are raging near the railroad tracks in that area.
Yevlash mentioned that this section is crucial to Russians in terms of logistics. Ukrainian forces are fighting for every inch of their land.
"As soon as it is possible to finally inform you about who has taken control of the railway, we will do so," Yevlash added.
A reminder that, on September 17, 2023, Ukraine's Defense Forces liberated the Donetsk region's Klishchiivka from Russian invaders.