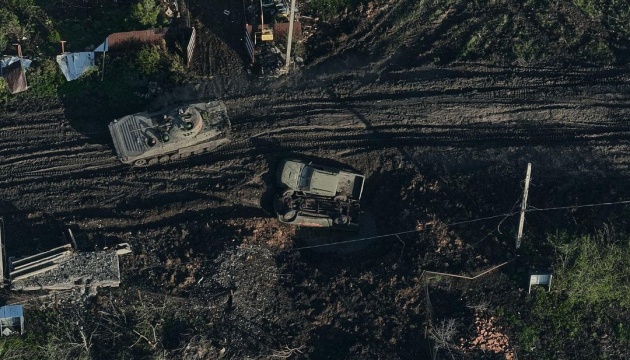 Ukrainian soldiers destroy Russian military equipment worth $2M in Donetsk region
In Donetsk region, Ukrainian soldiers used drones with night optics to destroy an enemy armored recovery vehicle and an infantry fighting vehicle with its crew and paratroopers.
The General Staff of the Armed Forces of Ukraine said this in a post on Telegram and published a corresponding video, Ukrinform reports.
In Donetsk region, the Achilles combat UAV company of the 92nd Ivan Sirko Separate Mechanized Brigade successfully used drones with night optics against enemy military equipment, destroying an IFV-2, an ARV and damaging an APC-80, according to the report.
The destroyed APC-2 was armed with a 30mm automatic cannon and a Fagot ATGM and had three crew members and eight paratroopers.
The damaged IFV-2 was armed with 14.5 mm and 7.62 mm machine guns and had three crew members and seven paratroopers.
The total cost of the destroyed equipment is about $2 million.
As reported by Ukrinform, Russia's Solntsepyok flamethrower system with its crew was destroyed in Luhansk region.
Illustrative photo, Kostiantyn Liberov