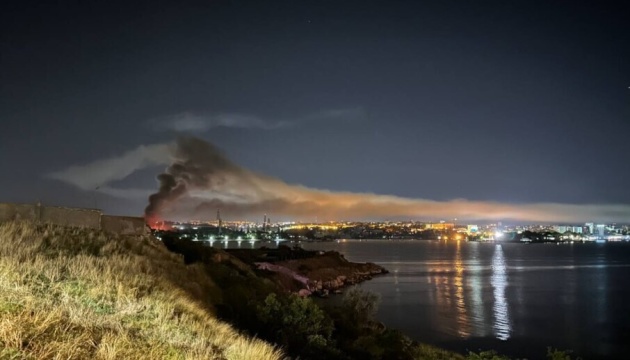 Russian submarine, landing ship hit overnight deemed unrepairable - GUR
Russia's large amphibious assault ship Rostov on Don and a submarine hit by Ukrainian missiles while undergoing repairs at the Sevastopol shipyard will never be put back to service.
That's according to the spokesman for Ukraine's military intelligence, Andriy Yusov, who spoke at the national telethon, Ukrinform reports.
"Significant damage has been inflicted and we can now say that the vessels are most likely not recoverable. Yes, today there's good news - the destruction of the large enemy landing ship "Rostov on Don" (project 775), as well as the Kalibr-carrying submarine, which is very important. Of course, this is good news for the Ukrainian security and defense forces, for Ukrainian citizens. And today, many Crimeans openly and sincerely rejoiced when they heard such sounds of explosions because they understood that the demilitarization of Crimea to clear the peninsula of the Russian invaders is ongoing," Yusov said.
As reported, powerful explosions rang out in the temporarily occupied Sevastopol overnight Wednesday. Russia's defense ministry confirmed a cruise missile attack on a ship repair plant, as a result of which "two vessels" were damaged. According to OSINT analysts, a Ropucha-class large landing ship ship and a Kilo-class submarine were hit in the strike.