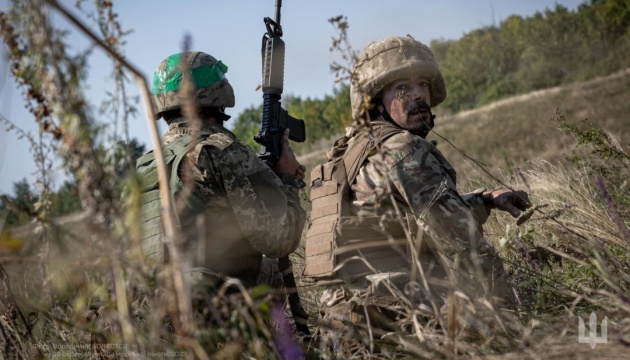 Ukraine's forces seeing success in Bakhmut direction, southern zone - official
Ukraine's defense forces are advancing in the Bakhmut direction and in the south of the country, while the situation escalated near Marinka and Avdiivka, where the enemy intensified shelling and is trying to assault the Ukrainian positions.
That's according to Deputy Minister of Defense Hanna Maliar, who delivered an update on the air of the national telethon, Ukrinform reports.
"If we talk about the south in general, the trend is that there is an advance on the part of our Armed Forces, and in these directions where we see success, we are gaining a foothold. But if we talk about liberated settlements, of course, the Russians don't want to give up so easily. If we're talking about Robotyne, we've taken control, but there's very serious fighting going on around the Robotyne area, for example. However, there is progress. If we talk about the east, the situation has worsened in Marinka and Avdiivka. The Russians intensified shelling there; moreover, they launched assaults," Maliar reported.
At the same time, she added that despite all their efforts, the enemy could not capture either Marinka or Avdiivka.
In addition, according to the deputy minister, in the Kupiansk-Lyman direction, the enemy is reducing the intensity of engagements.
"There, the number of combat clashes has significantly decreased and there were days when there were only strikes, and in fact combat clashes were minimized. But this does not mean that the enemy has abandoned their plans or retreated. No, they are simply accumulating power, preparing, and not abandoning their tasks to move toward Kupiansk and across Donetsk and Luhansk regions," the deputy minister noted.
Maliar added that the Defense Forces are seeing success in the Bakhmut direction.
"In the direction of Bakhmut, we have steady success. We are slowly but surely advancing there. The main battles are for Kurdiumivka, Klishchiivka, and Andriivka," the deputy minister said.
According to her, the situation at the front is changing really dynamically.
As reported by Ukrinform, Oleh Syniehubov, the head of the Kharkiv Regional Military Administration, said the Russian army was forming a shock fist in the Kupiansk direction, continuing its assault, but the Armed Forces of Ukraine were repulsing the enemy forces.