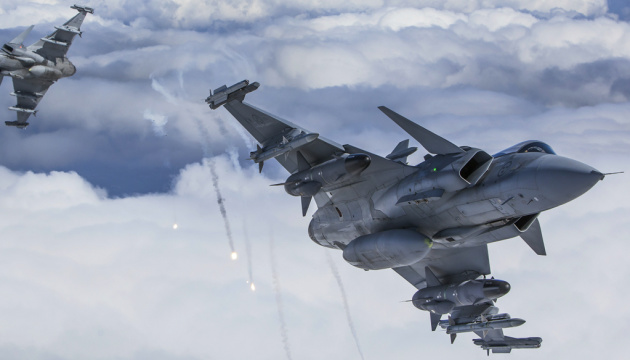 Sweden to consider sending fighter jets to Ukraine
The Swedish government will soon instruct the armed forces to study the possibility of transferring Gripen fighter jets to Ukraine.
Reuters reported this, according to Ukrinform.
"The Swedish government is considering donating Gripen fighter jets to Ukraine to help it fight Russia", Swedish public radio (SR) reported on Tuesday, citing unnamed sources.
It is noted that the government wants to know, among other things, how a handover would affect Sweden's defence capabilities and how quickly Sweden could get new Gripen fighters, SR reported.
The government may formally ask the armed forces as early as Thursday to officially consider the issue, according to the report.
According to the SR report, Ukraine hopes to receive one division of Gripen jets, made by Sweden's Saab, or 16-18 planes.
As reported, the day before, the spokesman for the Air Force of the Armed Forces of Ukraine, Yuriy Ihnat, said that the Air Force is already working on the task of updating the fleet of aircraft and replacing them with more modern ones. First of all, it is about the F-16, and the involvement of Swedish Gripen aircraft is currently being studied.
On August 20, the Netherlands and Denmark announced their decision to provide Ukraine with F-16 fighter jets. Ukrainian pilots and engineers have already begun training to use these aircraft. Denmark expects to deliver the first F-16s to Ukraine closer to the New Year.