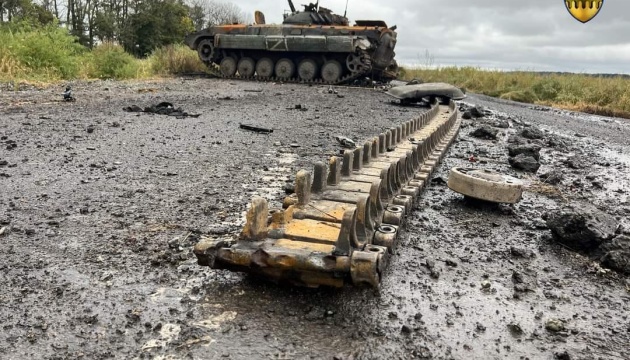 Ukraine's forces kill 3,970 invaders, destroy 866 units of Russian military equipment in past week
On September 4-10, the defense forces of Ukraine killed in action nearly 3,970 Russian servicemen, as well as destroyed 866 units of weaponry and military equipment.
That's according to First Deputy Minister of Defense Oleksandr Pavliuk, Ukrinform reports.
"Within a week from September 4 to September 10, the Defense Forces of Ukraine eliminated about 3,970 enemy personnel," Pavliuk noted via Telegram.
According to the senior official, Russia suffered significant losses in terms of their weapons and military equipment.
In the past week, the Russian military lost 78 tanks, 106 armored fighting vehicles, 229 artillery systems, 21 multiple rocket launchers, seven air defense systems, a vessel, 236 trucks, and 31 units of specialized equipment.
In addition, Ukrainian defenders shot down eight enemy missiles and 149 unmanned aerial vehicles.
As Ukrinform reported, from February 24, 2022 to September 10, 2023, the Defense Forces of Ukraine eliminated 268,630 Russian invaders.