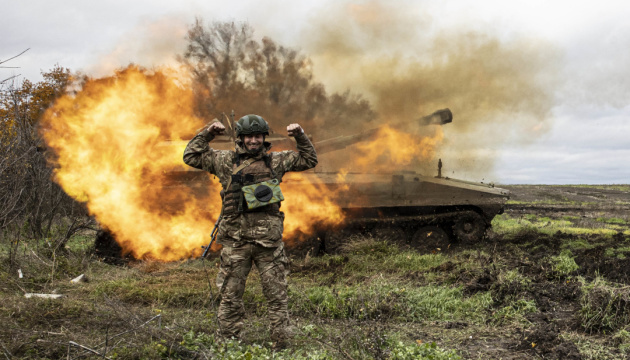 Ukrainian forces destroy 257 invaders, two self-propelled guns in Bakhmut sector
Ukraine's defense forces destroyed a 2S4 Tyulpan self-propelled mortar, a 2S7 Pion self-propelled gun and 257 invaders in the Bakhmut sector in the last 24 hours.
Illia Yevlash, spokesperson for Ukraine's eastern grouping of troops, said this on Ukrainian television, according to an Ukrinform correspondent.
"We continue to have success in the Bakhmut sector, particularly near Klishchiivka. In the past 24 hours, our defenders eliminated 257 occupiers," Yevlash said.
According to him, the defenders "worked fruitfully," using counter-battery radar systems, FPV drones and UAVs. Yesterday, Ukrainian forces destroyed five Russian D-30 guns, two Msta-B howitzers, an infantry fighting vehicle, three tanks, seven ammunition depots and two UAV control points.
"We managed to destroy a very powerful system – the 2S4 Tyulpan 240mm self-propelled mortar. This is the most powerful barrel artillery piece that the occupying army has in its arsenal. We also destroyed a smaller self-propelled system – the 2S7 Pion," he said.
He added that the Ukrainian Armed Forces had inflicted fire damage on two command and observation posts of an enemy company and destroyed a number of drones.
Yevlash said that in the Bakmut sector, the enemy had shelled the positions of the Ukrainian Armed Forces 572 times in the past 24 hours. "There was also one missile strike and eight combat clashes," he said.