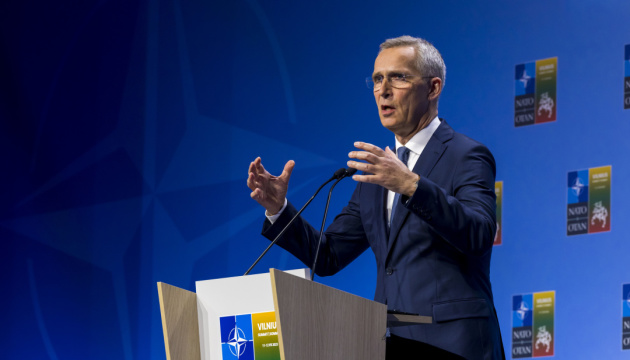 Russian army now second strongest in Ukraine - Stoltenberg
Ukrainian forces are gaining ground, breaking through Russian fortifications and liberating their land, proving that the Russian army, which used to be the second strongest in the world, has now become the second strongest in Ukraine.
NATO Secretary General Jens Stoltenberg said this in Brussels at the joint meeting of the European Parliament's Committee on Foreign Affairs (AFET) and the Subcommittee on Security and Defense (SEDE), according to an Ukrinform correspondent.
"The Ukrainians decided to launch the offensive because they are going to liberate their land. And they are making progress. Not perhaps as much as we hoped for, but they are gaining ground gradually some 100 meters per day. Meaning that when the Ukrainians are gaining ground, the Russians are losing ground. And you have to remember the starting point. The starting point is that the Russian army used to be the second strongest in the world. And now the Russian army is the second strongest in Ukraine," Stoltenberg said.
He noted that it was clear that this counteroffensive would be difficult and bloody because Russia had prepared layers of defensive lines with trenches, with obstacles to battle tanks, "dragon's teeth" barriers, and enormous amounts of mines.
"And that's quite impressive by the Ukrainians. And that's the courage, the will, the commitment, the determination of Ukrainian soldiers that are making this possible," Stoltenberg said.
He recalled that when the full-scale invasion began in February of last year, most experts said that Kyiv would fall within days, and Ukraine would fall within weeks. The Ukrainians proved them wrong by pushing back the Russian invaders, liberating the north, around Kyiv, the east around Kharkiv, and then bigger territories in the south and around Kherson, he said.
"And then the same experts that told us that Ukraine will fall within weeks are complaining about the speed of the defensive. The reality is that Ukrainians are actually exceeding expectations again and again. And we need to remember what's our responsibility, our responsibility to support them. We can advise them, but it has to be the Ukrainian commanders, the soldiers on the ground, that make the difficult decisions. We cannot sit here in Brussels, in the NATO Headquarters or the EU Headquarters and tell them exactly how to fight. That's their task. They're risking their lives and we just support them," Stoltenberg said.
Photo: EFE/EPA