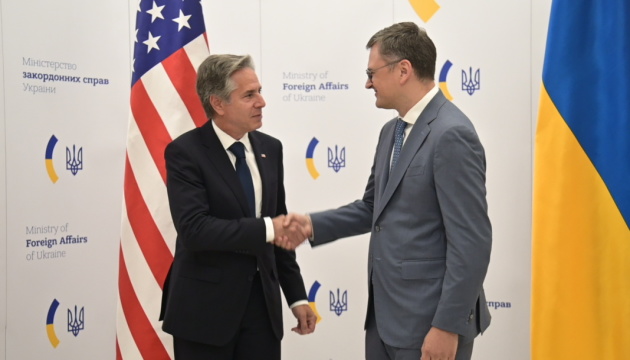 US Secretary of State announces more than $1B in new aid for Ukraine
The United States will provide a new assistance package for Ukraine, totaling more than $1 billion.
The relevant statement was made by U.S. Secretary of State Antony Blinken during a joint briefing with Ukrainian Foreign Affairs Minister Dmytro Kuleba in Kyiv, an Ukrinform correspondent reports.
"The United States and Ukraine have forged a partnership that is stronger than ever and growing every day. We will continue to stand by Ukraine's side, and today we're announcing a new assistance totaling more than $1 billion in this common effort that includes $665.5 million in new military and civilian security assistance," Blinken told.
In his words, since the Russian aggression started, the United States has committed over $43 billion in security assistance.
According to Blinken, Ukraine's counteroffensive progress has accelerated in the past few weeks, and this new assistance will help sustain it and build further momentum.
Blinken mentioned that the assistance includes an additional $175 million in drawdown authority that will provide significant support for Ukraine's air defenses, another $100 million in foreign military financing to support Ukraine's longer term military needs, and $300 million to support law enforcement efforts to restore and maintain law and order in the liberated areas.
The United States is also sending its first delivery of mine resistant ambush protected vehicles to Ukraine's border guards and police.
"The new security funding that we're announcing today will also be bolstered by the arrival of U.S. Abrams tanks this fall and by training for Ukrainian pilots on F-16s in the United States, complementing training that is already underway in Europe," Blinken noted.
A reminder that, on September 6-7, 2023, U.S. Secretary of State Antony Blinken is paying a visit to Ukraine.