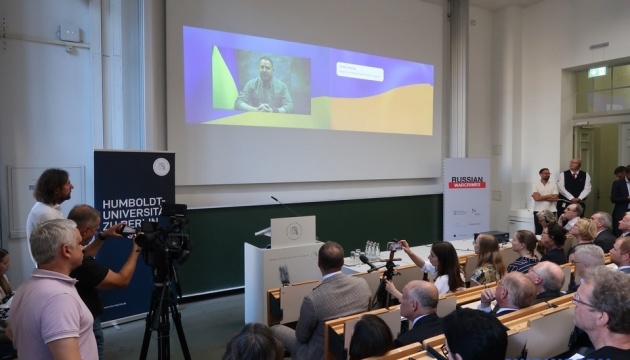 Yermak at Russian War Crimes exhibition in Berlin: We demand justice for every killed Ukrainian
Ukraine demands justice for every tortured and killed Ukrainian.
Head of the Office of the President of Ukraine Andriy Yermak said this in his video address to the visitors of the Russian War Crimes exhibition, opened on September 4 at the Humboldt University of Berlin, according to the president's press service.
Yermak once again underscored the importance of adhering to the Peace Formula proposed by President of Ukraine Volodymyr Zelensky and bringing Russia to justice for war crimes.
"Since February 2022, 136,000 crimes have been committed against Ukraine as a result of Russia's full-scale aggression. According to our data, approximately 11 thousand civilians have been killed during this time, 497 of whom are children. Another 20 thousand children were abducted and taken to Russia. These figures are not final, and the list of crimes is far from exhaustive. We demand justice for every tortured and killed Ukrainian, for every destroyed home, for every tear shed by a Ukrainian child," the Head of the President's Office said..
The project showcases photographs taken across Ukraine since February 24, 2022, the day the full-scale Russian invasion began. The exhibition will run until September 16.
The official opening of the Russian War Crimes exhibition was also attended by Vice President of the Bundestag Katrin Göring-Eckardt, Ambassador Extraordinary and Plenipotentiary of Ukraine to Germany Oleksii Makeiev, Chairman of the Board of Trustees and former Chairman of the Munich Security Conference Wolfgang Ischinger, and Director of the Institute for International Peace and Security Law at the University of Cologne Claus Kreß.
The exhibition was organized by the PinchukArtCentre in partnership with the Office of the President of Ukraine, the Ministry of Foreign Affairs of Ukraine and the Bundestag.
It was first exhibited in the former Russian House in Davos during the annual meeting of the World Economic Forum 2022. Later, the project was shown in London, Brussels, New York, Munich, Vilnius, and Bratislava.
Photo: Olha Tanasiychuk