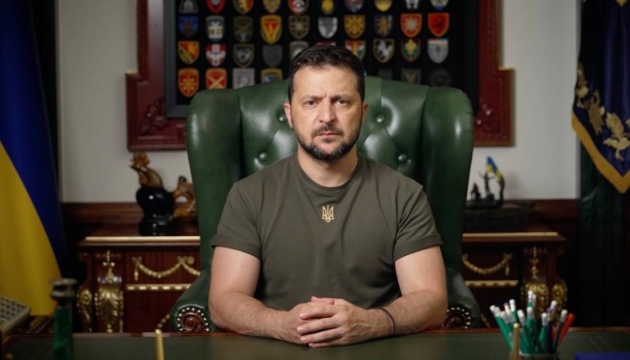 President Zelensky: Talks with partners underway to provide Ukraine with new air defense systems
Ukraine is holding talks with various partners to receive additional air defense systems.
The relevant statement was made by Ukrainian President Volodymyr Zelensky in his video address, an Ukrinform correspondent reports.
The full text of the speech is provided below:
Good health to you, fellow Ukrainians!
A report for the day.
First of all, the NSDC. I held a meeting today. As I said earlier, there was only one issue - MMCs.
The inspection of military medical commissions across the country is underway. Law enforcers will complete it soon. And there are already several conclusions.
It is necessary to check a significant number of decisions of the military medical commissions on disability and unfitness for military service that were made after February 24. Today, the relevant statistics were presented at the National Security and Defense Council. There are examples of regions where the number of people removed from the military register due to the MMC's decision has increased tenfold since February last year. It is absolutely clear what these decisions are. Corrupt decisions. And in the criminal proceedings that are currently underway against the staff of MMCs and MSECs, it is even clearer how many decisions could have been falsified. Law enforcement officers have already clearly identified unreasonable MMCs' decisions. Specific evidence has been recorded. It has been presented behind closed doors. Different regions of the country, different TRCs, different officials. The bribes range from 3 to 15 thousand dollars. They will be held accountable.
The list of those who went abroad due to obviously dubious decisions of MMCs will be analyzed separately. First of all, due to the decisions of those who have already been caught taking bribes. We are talking about at least thousands of people.
We will also address the issue that almost all commanders in the field are referring to - the concept of so-called limited fitness. For a very long time, this concept allowed for manipulation in the manning of units. In particular, combat brigades. Everything related to fitness or unfitness for military service must be as clear as possible. So that a person understands how he or she can help the defense, and so that the units have clarity on who will be joining them.
And a very important point is the digitalization of the MMCs' work. No more queues. No more wandering around to find or sign the right paper. All this can be ensured electronically and by the presence of the necessary military personnel at the place where the medical examination takes place, if it is in a civilian medical institution. Government officials will complete this digitalization work. And we need full accessibility in all areas of the civilian medical system for the purpose of undergoing the MMC's examination. Some regions, such as Volyn, have ensured this one hundred percent. And another example is that in Kyiv, almost nothing has been done to allow people to undergo the MMC's examination in civilian medical institutions.
Therefore, the military command, the medical sector, and all levels of government must work as actively as possible to resolve this issue.
The second topic for today is our international agenda. We are actively preparing for the negotiations and meetings scheduled for September. I have held meetings with international relations officials, with our ambassadors in the respective countries. We clearly see which leaders we need to meet and negotiate with, and what results we have to bring to Ukraine.
The third issue is the European Union. I held a large meeting with representatives of the parliament, government officials, and our international relations officials on our readiness for the launch of membership negotiations with the EU. The implementation of the recommendations. The necessary bills that have already been prepared and need to be passed in the parliament. 226 votes for each decision for Ukraine in the European Union is an obligation.
And a few more things.
Peace Formula. Today, a new meeting was held with representatives of diplomatic missions on the implementation of the Peace Formula. Andriy Yermak chaired it. And today, there were 11 more diplomats, bringing the total to more than 70 diplomatic missions involved. This is a very good dynamic. And there can be even more participating states. The world majority will be with us.
The Peace Formula is designed so that every country and every leader can demonstrate their capabilities for the sake of a common result, for a just and lasting peace.
And our air defense. I thank every warrior who defends Ukrainian skies every day and every night. We are working very hard to provide Ukraine with new air defense systems. Now is not the time to talk publicly about the details, but negotiations on additional air defense systems are ongoing with our various partners. Step by step, we are bringing this success closer for Ukraine.
Glory to everyone who fights and works for Ukraine! I thank everyone in the world who helps!
Glory to Ukraine!
Video: Office of the President of Ukraine