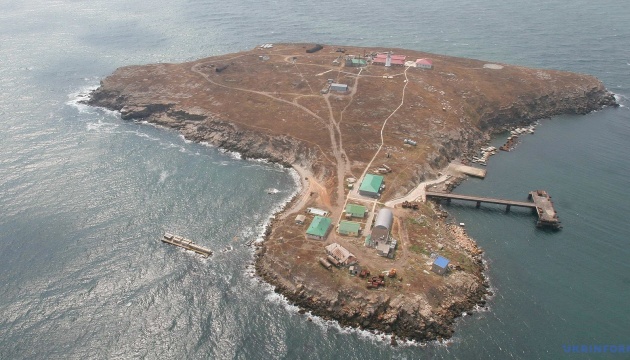 No Ukrainian navy boats damaged in battle with Russian aircraft off Snake Island coast - intel
During the recent battle between Ukrainian gunboats and a Russian attack plane off the coast of Snake Island in the Black Sea, none of the watercraft sustained damage.
This was reported by Viktor Torkotiuk, Commander of Artan, a special unit with the Main Intelligence Directorate of the Ministry of Defense, who spoke in an interview with Ukrainian Pravda, Ukrinform reports.
"This is one of our extreme operations, which we ran in the Black Sea and on the territory of Ukraine within the borders as of 1991. Of course, I won't reveal the details of the operation, but I will say this: thank God, we didn't lose anyone, and that's the most valuable thing for us. None of the watercraft was injured, we completed all the tasks," he said.
Torkotiuk said that during the operation, a special agent, call sign Conan, ended up overboard in the Black Sea, where he stayed for 14 hours.
As Torkotiuk explained, Conan was left behind as the rest of the team had to retreat under the heavy fire of enemy aircraft.
"Just imagine: alone in the open sea, without understanding where to swim, when help will come, but with a clear awareness that he is the target not only of our search missions, but also of the enemy. That's right: he didn't just stay on the water for 14 hours, he also swam in the right direction," the commander noted.
According to him, the fighters, having reached the safe zone and received reinforcements, immediately returned. "The whole team, despite high risk, did not stop searching for their comrade-in-arms. After several hours of searching, our man was found by aerial reconnaissance. From that moment on, he was continuously monitored from a drone," Torkotiuk said.
According to him, the boats tried to break through to Conan through the dense fire of Russian warplanes, which flew into the area of the search and rescue operation and tried to hamper it.
"Eventually, our guys managed to break through and our soldier was successfully evacuated. He knew that his comrades would definitely come back for him," said the commander of the GUR special unit.
As reported, on August 23, GUR reported a combat engagement between a Russian military aircraft and Ukrainian gunboats in the territorial waters of Ukraine near Snake Island, in the area of the oil rigs.
A missile fired from a Ukrainian boat damaged the Russian plane, which was forced to immediately leave the scene and fly toward the nearest airfield.