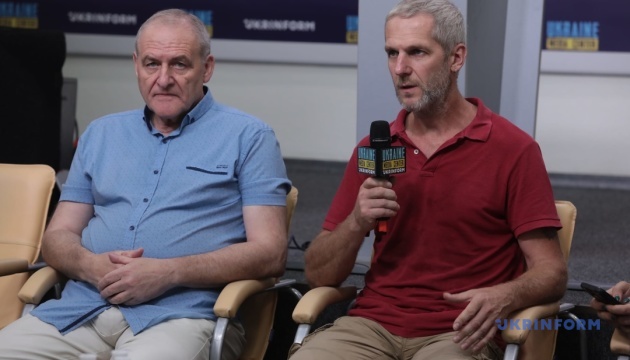 Invaders have killed about 100,000 people in Mariupol – human rights defenders
The Russian invaders have killed approximately 100,000 civilians in Mariupol, and this is a confirmed number.
Mykhailo Romanov, an expert at the Kharkiv Human Rights Protection Group, said this during the presentation of a legally substantiated submission to the International Criminal Court about the genocide of people in Mariupol by the Russian invaders at the Ukrinform press center.
"The number of victims in Mariupol is measured in thousands, tens of thousands. We were not able to establish an exact figure at that time, but we [calculated] indirectly, based on the deduction of those parts of the population who were reported to be evacuated or taken to the territory of Russia, or some other data that allowed to deduct this population group, from the total number of the population of Mariupol. And we got a figure of approximately 100,000 people, that is, these people were killed," said Romanov.
He noted that people in Mariupol were killed in different ways, methods, with the use of different weapons, but, in any case, those were murders.
"We took some of the episodes from our own database. This is what we collected personally, in which we are confident to a certain extent, as we tried to verify every fact we found in order to obtain additional evidence to confirm the existence of these facts," the human rights defender emphasized.
The working group, which consisted of the Kharkiv Human Rights Protection Group team and Mariupol citizens who had left, together collected information about the crimes of the Russians and wrote a corresponding submission. This large submission, available in Ukrainian and English, contains a lot of information about Mariupol, about how adults and children were killed there. It will be published and sent to the International Criminal Court.
The Kharkiv Human Rights Protection Group is one of the oldest Ukrainian human rights organizations.