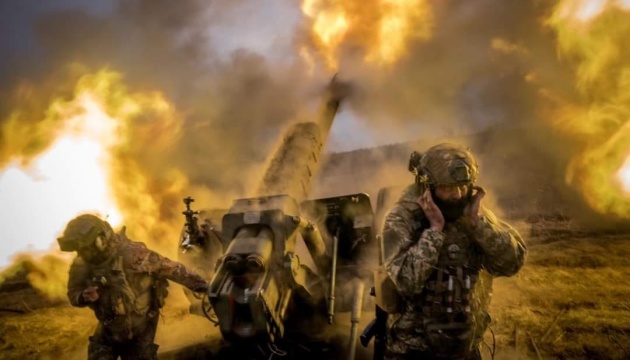 Ukrainian forces hold initiative in Bakhmut sector, enemy suffers losses – military spox
Ukraine's defense forces continue to put pressure on enemy troops in the Bakhmut sector, inflicting significant losses on them, with 75 occupiers killed and 152 wounded throughout the day.
Serhii Cherevatyi, spokesman for Ukraine's eastern group of troops, said this on national television, according to an Ukrinform correspondent.
"In the Bakhmut sector, the defense forces continue to put pressure on the enemy, holding the initiative and striking enemy forces. The enemy is trying to repel our attacks, primarily using artillery - 578 [artillery] strikes and 10 air raids were carried out in the last 24 hours. There were 11 engagements, in which we destroyed 75 occupiers, wounded 152, and captured three," Cherevatyi said.
According to him, Ukrainian soldiers also destroyed two enemy armored vehicles, an infantry fighting vehicle, an amphibious assault vehicle, a Giatsint self-propelled artillery system, a Soviet Tyulpan 240mm self-propelled mortar, a D-30 howitzer, an ammunition warehouse, and a fuel depot.
"We are constantly destroying their logistics," the spokesman said.
He added that Ukrainian defenders had also destroyed a Zoopark radar station and two Russian drones.