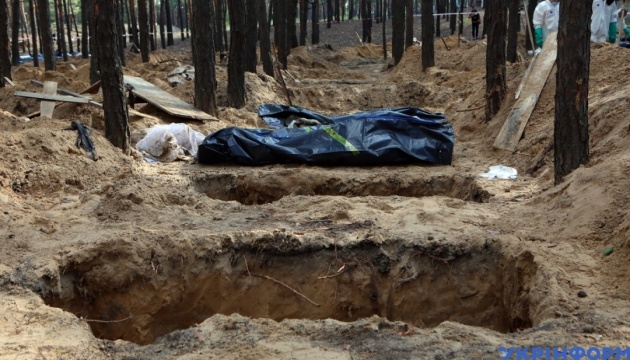 Ukraine records over 100,000 war crimes committed by Russian invaders
Ukraine has recorded 100,666 war crimes committed by Russian invaders since the full-scale invasion began.
Yurii Bielousov, the head of the Department for Combating Crimes in Armed Conflict of the Ukrainian Prosecutor General's Office, said this during a discussion entitled "Genocide as a crime. How to punish the guilty?" according to an Ukrinform correspondent.
"Our task is to record as much as possible everything that is happening in our country - every shelling attack, murder, case of deportation of our children, sex crimes, so that we do not lose evidence. To date, we have already recorded 100,666 war crimes since the full-scale invasion began," Bielousov said.
According to him, law enforcement officers are working to prove that Russian forces committed crimes against Ukrainians intentionally. He also expressed hope that the International Criminal Court would recognize that, in addition to the crime against humanity, the Russians are committing the crime of genocide against Ukrainians.
"Genocide is different from crimes against humanity. These are also crimes that have a systemic nature, but which are committed with a specific intention - to destroy a certain group, in whole or in part," he said.
For his part, human rights defender Irwin Cotler, Canada's special representative for the preservation of the memory of the Holocaust and the fight against anti-Semitism, said that Russia violates all five prohibitions stipulated by the Convention on the Prevention and Punishment of the Crime of Genocide in Ukraine. In his opinion, it is necessary to create an independent international tribunal on the crime of aggression. The international community should also support the conclusion of the special prosecutor of the International Criminal Court about Russia's responsibility for the deportation of Ukrainian children, support Ukraine's self-defense against Russia's act of aggression, as well as the initiative to introduce sanctions under the Magnitsky Act against those who directly participate in the crime of genocide or publicly call for it.
Ukrainian MP Mustafa Dzhemilev added that the current Russian policy on the occupied Crimean peninsula, like 240 years ago, is aimed at displacing the indigenous people and settling the territory with Russians.
"According to our estimates, at least one million Russian citizens were settled there," he said.