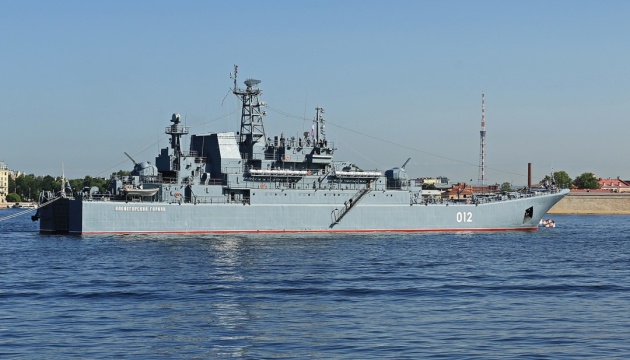 Marine drones attack Russian naval base in Novorosiisk, warship allegedly damaged
Russian Ministry of Defense said that the Armed Forces of Ukraine attacked the Novorosiisk naval base with two unmanned boats on the night of August 4, while keeping silent about possible damage to a Russian warship.
That's according to a statement of the Russian military on Telegram, Ukrinform reports.
Russian Ministry of Defense claims that "during the repulsion of the attack, the unmanned boats were visually detected and destroyed by fire from the regular weapons of Russian ships guarding the outer raid of the naval base."
The mayor of Novorosiisk Andriy Kravchenko clarified that the attack was repelled by "the crews of the Olenogorskiy Gornyak and Suvorovets ships."
However, some Russian Telegram channels, as well as foreign experts, published videos and photos of the damaged "Olenogorskiy Gornyak" landing ship.
Earlier in the morning, emergency services in Novorosiisk reported shooting and explosions in the waters of Novorosiisk and the village of Miskhako. The port of Novorosiisk is home to the Caspian Pipeline Consortium (CPC) marine terminal. Its press service stated that the infrastructure of the CPC was not damaged, and the company continues to ship oil at the terminal as usual to moored tankers. At the same time, a temporary ban on ship traffic was imposed in the port.
Russian Telegram channels have been publishing videos of shooting and explosions in the waters of Novorosiisk.
As reported, according to CNN, maritime drones have been used at least twice before in attacks on occupied Crimea: in October 2022 during a strike on the Black Sea Fleet base in Sevastopol, and in July 2023 during a strike on the Kerch Bridge.
Illustrative photo: social media