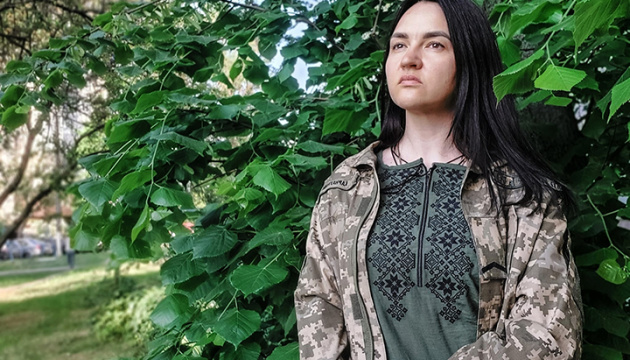 Alina Karnaukhova, co-founder of NGO Zhyva: Living despite loss is challenge facing families of fallen heroes
The scout of the 93rd separate mechanized brigade "Kholodnyi Yar", international master of sports in powerlifting Serhii Karnaukhov died in May 2022
His serious gaze reveals a strong-willed character. Her eyes are full of tenderness and calmness. She clings to him trustingly, with the confidence inherent in a truly strong relationship. This photo was supposed to be one of many in the family photo album that their grandchildren could someday look through. However, it will always remain a priceless happy "before" moment.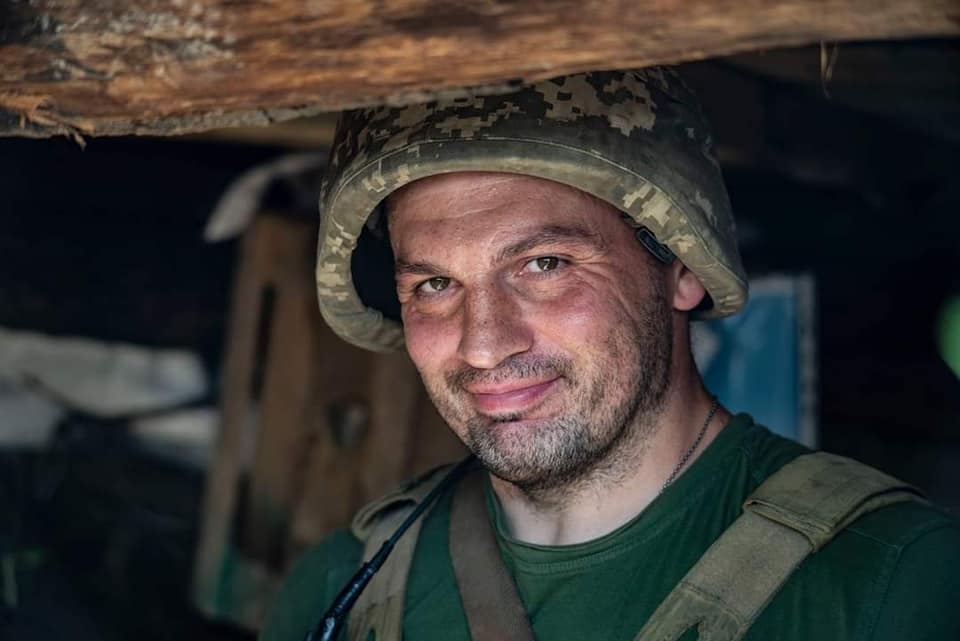 Serhii Karnaukhov, a scout with the 93rd separate mechanized brigade "Kholodnyi Yar" and international master of sports in powerlifting, died in May 2022 while performing a combat mission. His wife Alina later joined the Armed Forces of Ukraine and, together with other widows, founded a non-governmental organization that takes care of the families of fallen heroes.
"Ukrainians are dying every day because of the war unleashed by Russia. Someone's husbands, wives, sons, daughters, parents. How do you find the strength to survive such grief?" I ask Alina.
"Not to survive, because it's impossible," she gently corrects me. "I would rather say to learn to live with it. And this is an extremely difficult task..."
The following is Alina Karnaukhova's direct speech.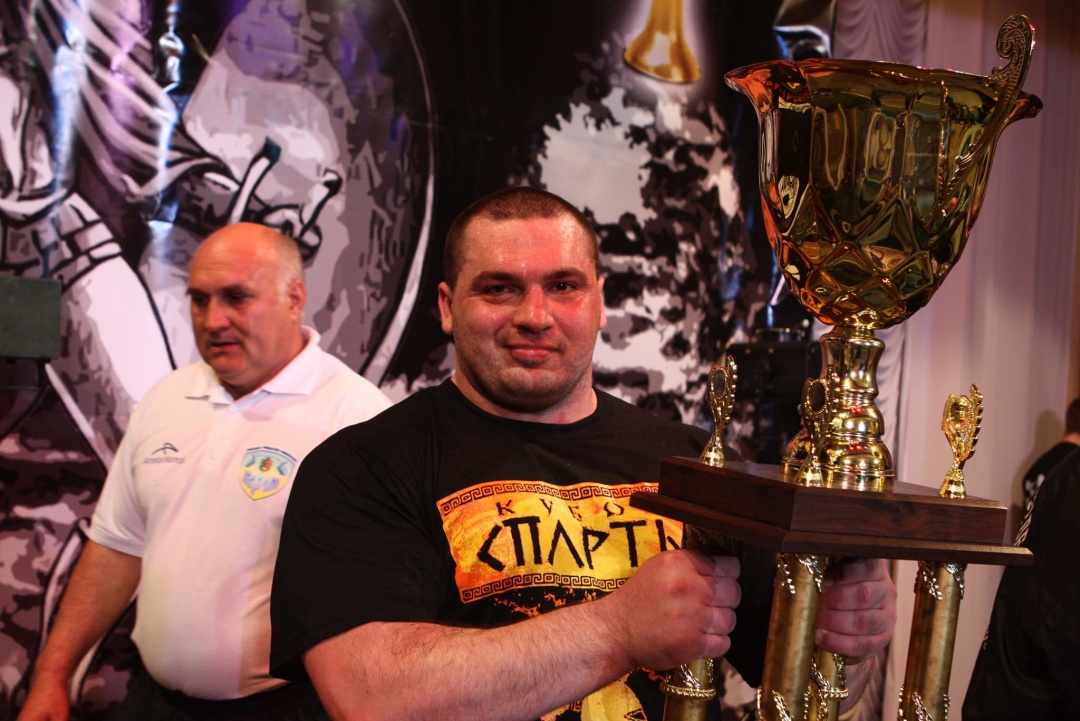 "Sergii squatted with a barbell weighing 501 kg. This world record has not yet been broken."
Serhii has always been a determined, uncompromising person. His friends - his comrades-in-arms and athletes - said that Serhii had no shades of gray. That is, there were no half measures for him. Not everyone loved him because of this, but everyone respected him. Serhii did not just declare his life principles, he defended them in battle. He always took the side of truth in any matter. Honor and dignity were not empty words for him. Serhii was a leader not only in sports, but in everything he did.
Champions are those who can, as they say, "plow". And he did. Serhii had no genetic predisposition to championships, he was born very weak, and doctors initially thought he would not survive. He was a sickly child, but he had an incredibly strong character.
Since childhood, Sergii has tried himself in various sports. In his youth, he finally settled on powerlifting, which was very close to his heart. This is not a team sport, you rely only on yourself. That is, if you mess up somewhere, the responsibility is solely on you, but the victory is also yours.
You are simultaneously competing with your opponent, who is also lifting weights, and, relatively speaking, with a barbell. In contact sports, in other types of wrestling, your opponent may be weaker and you will win. But the barbell will never be weaker. Your opponent may not be able to lift it, but if you can't either, you won't win. This uncompromising attitude was very close to Sergii.
At the age of 19, he became a world junior champion and moved into the professional category. He competed in the USA and Europe. He reached all possible heights in this sport. He had athletic achievements that no one else could repeat. For example, Serhii squatted with a barbell weighing 501 kg. This world record has never been broken.
In 2014, when the war broke out, he gave up sports because his keen sense of justice gave him no other choice. He simply did not understand how he could do otherwise.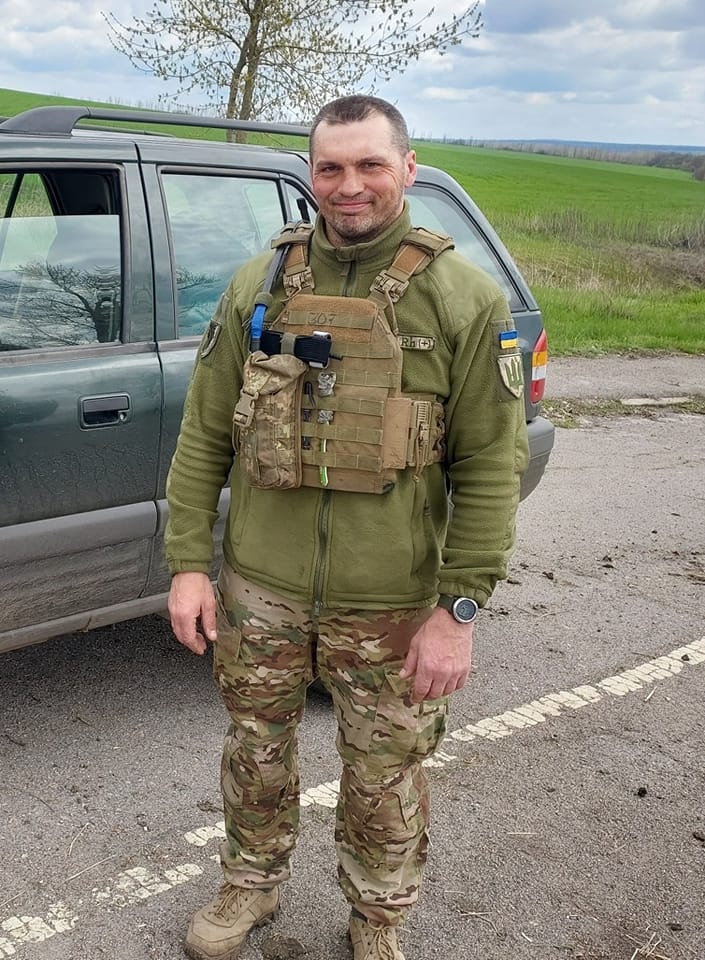 The husband always said: "I joined the army not to serve, but to liberate our land."
In early March 2014, when little green men appeared in Crimea, Serhii realized that there would be a war. And he wondered why others did not realize it. He went to the military registration and enlistment office in Dnipro, wrote down his information in a notebook and sent it home. After a while, he got a call. That's how Serhii got into the 93rd separate mechanized brigade. He was supposed to be assigned to the artillery, but he asked to be assigned to the infantry. Together with the brigade's infantry units, he performed missions in the Donetsk sector: Pisky, Opytne, Vodiane... He participated in the defense of the 10th checkpoint, in the battles for the DAP.
In the war, as in sports, Serhii also strived to be the best. He had the rank of sergeant major, but thanks to his exceptional commanding skills, he held two officer positions at the same time - he was the commander of an artillery battery and a SOB (senior battery officer - author). Their battery did not have a single unfulfilled combat mission during the entire period of his service. In 2019, when the artillery was no longer involved at the front, he transferred to the infantry and served as a platoon commander. He was wounded by a sniper's bullet near Avdiivka, underwent treatment, and returned to duty. In 2020, Serhii's contract expired and he had no intention of extending it, because the infantry as such was no longer working. Serhii always said: "I joined the army not to serve, but to liberate our land, I want to work. Otherwise, I don't understand the expediency of my staying here."
In 2020, Serhii resigned from the Armed Forces of Ukraine, we moved to Berdiansk, bought an apartment there, and got a job at the Berdiansk Meat Processing Plant. Serhii's character traits worked here as well: in six months, he grew from an ordinary manager to the head of the branded trade department, without any experience in this area.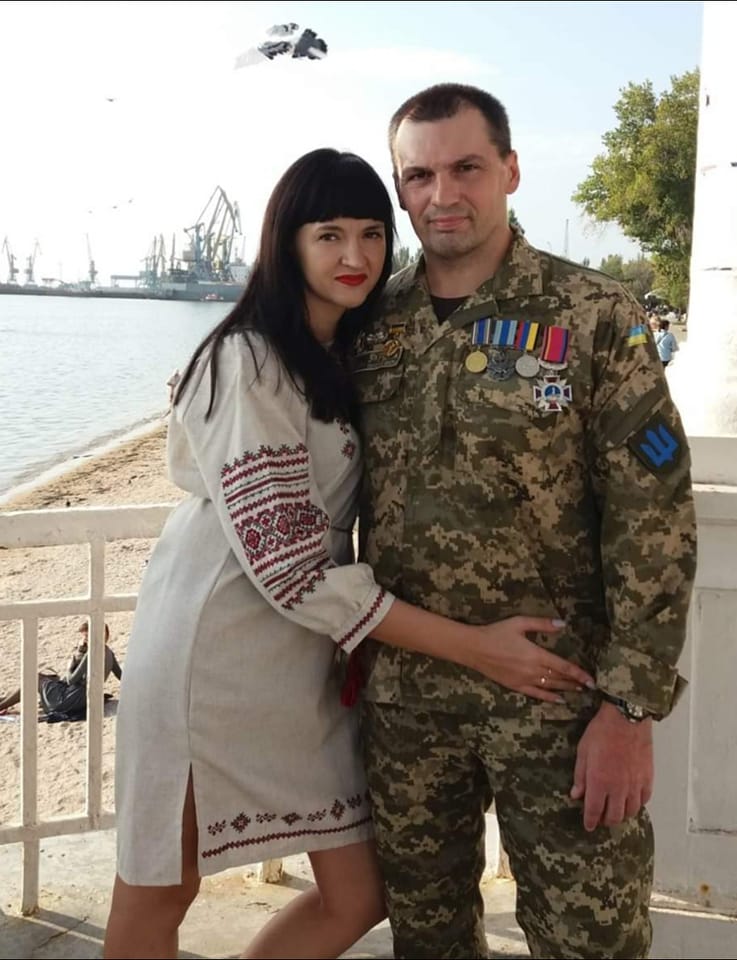 "Serhii realized the inevitability of the great war, so he had no panic, he had a plan of action"
Early in the morning of February 24, 2022, Serhii was out for a run when a Russian missile hit the Berdiansk airport. He called me, said he had seen the explosion and asked me to watch the news. There were already numerous reports of explosions across the country, of a full-scale Russian invasion. Serhii realized that a big war was inevitable, so he didn't panic, he had a plan of action.
His belongings were already packed because he was going to the military registration and enlistment office. My son and I gathered documents and some things, but Serhii made us take as much as possible from the house. Even the cereal. I asked: "Aren't we going to buy some buckwheat?". I had no understanding of what was going to happen. Serhii, on the other hand, realized that if Kyiv did not survive, then Dnipro, where we were going, or any other city could become a conditional Mariupol, where the value would be not money but a packet of buckwheat.
We left an hour after our first arrival in Berdiansk. I stayed with my son at Serhii's mother's house, and he went to the military unit. In a couple of days he was already at the front.
This time, he was assigned to reconnaissance, performing tasks not only at ground zero but also in the occupied territory. Actually, Serhii died in the then-occupied village of Dibrivne, Kharkiv region.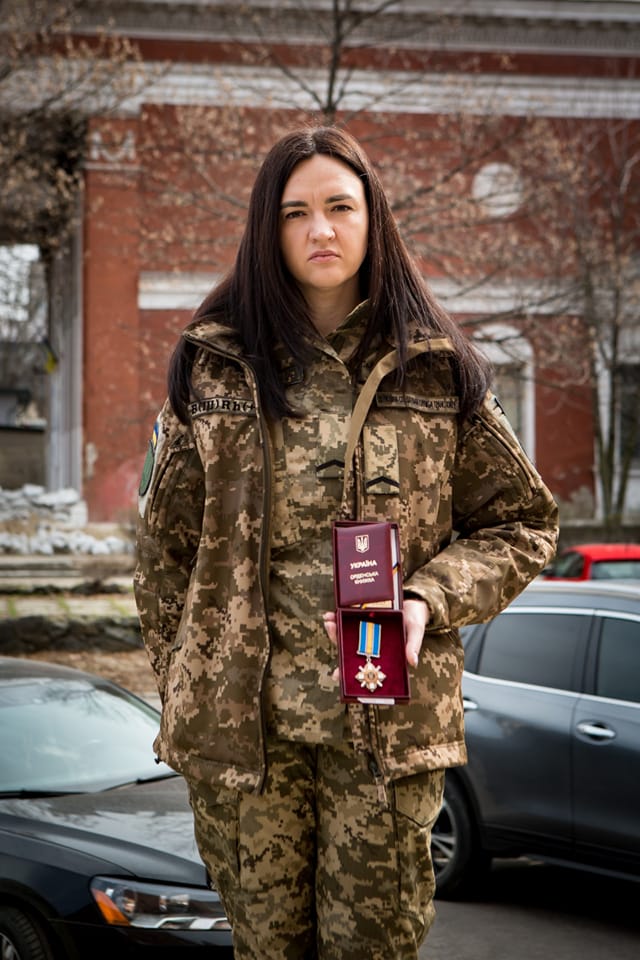 "I will say terrible words, but I was lucky. I had the opportunity to say goodbye to my beloved properly."
Serhii was killed at 14:30, and at 17:00 I received a call from the commander. I asked my friend to come with me to Barvinkove, where my husband's body was brought. We were already in Barvinkove at night, moving around the city with the headlights off (at that time, the Izyum-Barvinkove direction was one of the hottest and most dangerous - author's note). A conductor walked in front of us and showed us the way, helping us to avoid craters or blocks.
That's how we got to the point. It was an ordinary civilian hospital. A small room with two black bags on the floor. My Serhii was in one of them. I touched him, and the thought kept coming to mind: how can a person have so much blood in him that it flows like that, flows, as it seemed to me, continuously
At that time, the brigade suffered heavy losses, and the "cimikiy" (civil-military cooperation officers) simply did not have time to take the dead away. Volunteers from the Bulldozer Humanitarian and Logistics Center, an organization that transports fallen heroes, helped me bring Serhii home. I could have avoided going alone, but it was important for me to be with Serhii a little more.
I will say terrible words, but I was lucky. I had the opportunity to say goodbye to my beloved properly. There are widows who have not been able to bury their husbands for more than a year because their bodies remained in the occupied territory. And they envy me that I can come to the cemetery and hug the cross of my husband. Death is uncompromising and inevitable. We cannot prevent it or change anything. The only thing we can do is to give our dearest ones a decent send-off. And when relatives are deprived of even this opportunity, it is an additional hellish pain.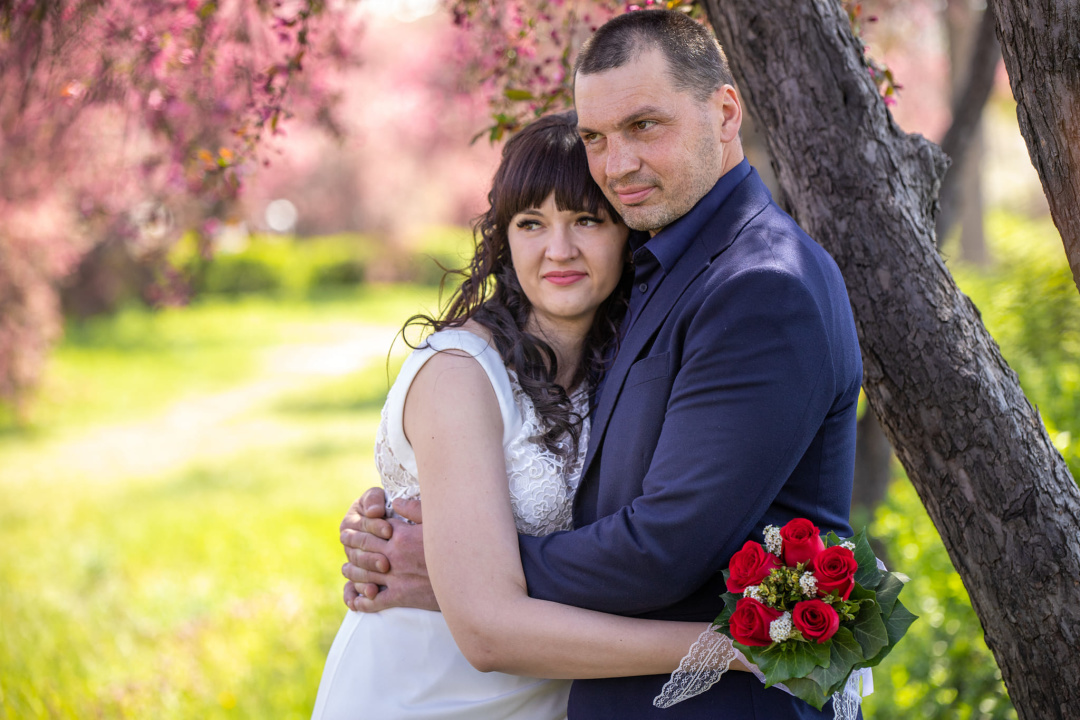 "We, the wives of the fallen heroes, have no moral right not to continue the fight. For their sake"
Not only did my husband die, but my whole life was completely destroyed. I have no home, no job, and I'm in a strange city with my child. My parents lived in Ukrainsk, Donetsk region. My mom had a broken spine, and my dad took care of her. I had no idea how I was going to solve all the problems that fell on me.
Later, my parents moved to Ivano-Frankivsk with their son. And I went to the military enlistment office and was mobilized into the Armed Forces of Ukraine.
My social activities grew into communication with other girls who had also lost their husbands in the war. When you lose your dearest person, it seems that no one understands what you are feeling. To be honest, it is true... You can't understand this without experiencing it. We began to share our pain, our experience of survival. And gradually we realized that we wanted to keep moving. Our husbands died to give their families and Ukrainians in general the opportunity to live. And we, the wives of the fallen Heroes, have no moral right not to continue the fight. For their sake.
That's why we created the non-governmental organization Zhyva as a certain asset. The name has several meanings. First, there is a Slavic goddess Zhyva, who was identified with a woman who fights. Secondly, Zhyva symbolizes the fact that despite the fact that we are dead inside, we continue to live.
The range of our work is quite wide: legal and psychological support for the families of the victims, assistance to the military, and commemorative events.
You know, at the beginning of the full-scale invasion, when society was shocked by what was happening, the demand for information about the war heroes was enormous. Now I notice that society is accustomed to constant numerous losses. People are tired of other people's grief, it's hard to let it pass through them all the time, so they try to consume less of this kind of information. This is psychological self-defense. But, despite everything, we need to preserve the memory of the Heroes. This is important not only for the families of the victims, but also for society as a whole, for future generations. If we do not talk about those people who gave their lives for us, for Ukraine, if we do not saturate the information space with this important topic, we risk returning to the times when the attitude towards those who are fighting has slipped to the level of indifference or "we did not send you there." Accordingly, this could open the door to a new war in the future.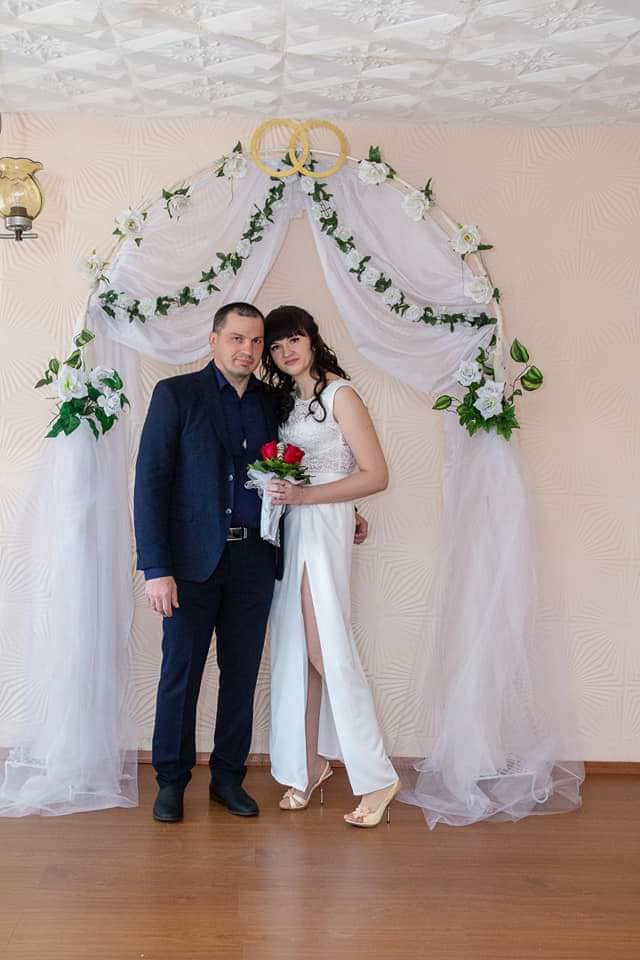 "These men had to fight for the right to life for their families, for the whole nation at the cost of their lives"
One of the events organized by our organization was a photo exhibition in France. It featured 12 stories about fallen soldiers and their families. We wanted to tell the French not just the story of persistent, desperate soldiers who went to their deaths. We wanted to show that they were ordinary people, just like those who came to this exhibition. Here, look, a man who also lived in a European, democratic country. He had a family, you see, here they are at sea, and here they are traveling in a tent, and here they had a child. One was a programmer, the other an athlete, a doctor. Absolutely the same as the French, the only difference is that France was not attacked by the Russians... And Ukrainians have to fight for the right to life for their families, for the whole nation at the cost of their lives.
For this exhibition, each wife handed over an item that belonged to her husband. Some handed over their beloved's wedding embroidered shirt. Some gave a watch with blood stains that her husband was wearing at the time of his death. I gave away Serhii's sports jacket that he used to wear to competitions. It had the national flag on it and was signed with his name. I wanted to show him that he always loved Ukraine. That is, he defended the honor of our country first in the sports arena and continued to do so in the war. In addition to the jacket, I handed over Serhii's military chevrons - dirty, worn, which he wore during the battles.
After that exhibition, the girls, by the way, found sponsors in France and brought a car for the military.
Now there is another interesting project in which our organization is involved, and its author is Olena Sokalska. "Alive. True Love Stories" is an art therapy project for wives of fallen heroes in Kyiv, Lviv, and Dnipro. The girls spend 2 days for 6 hours painting on real Italian canvases. Each of them creates her own love story and puts all her feelings into it. Sometimes the girls paint and cry...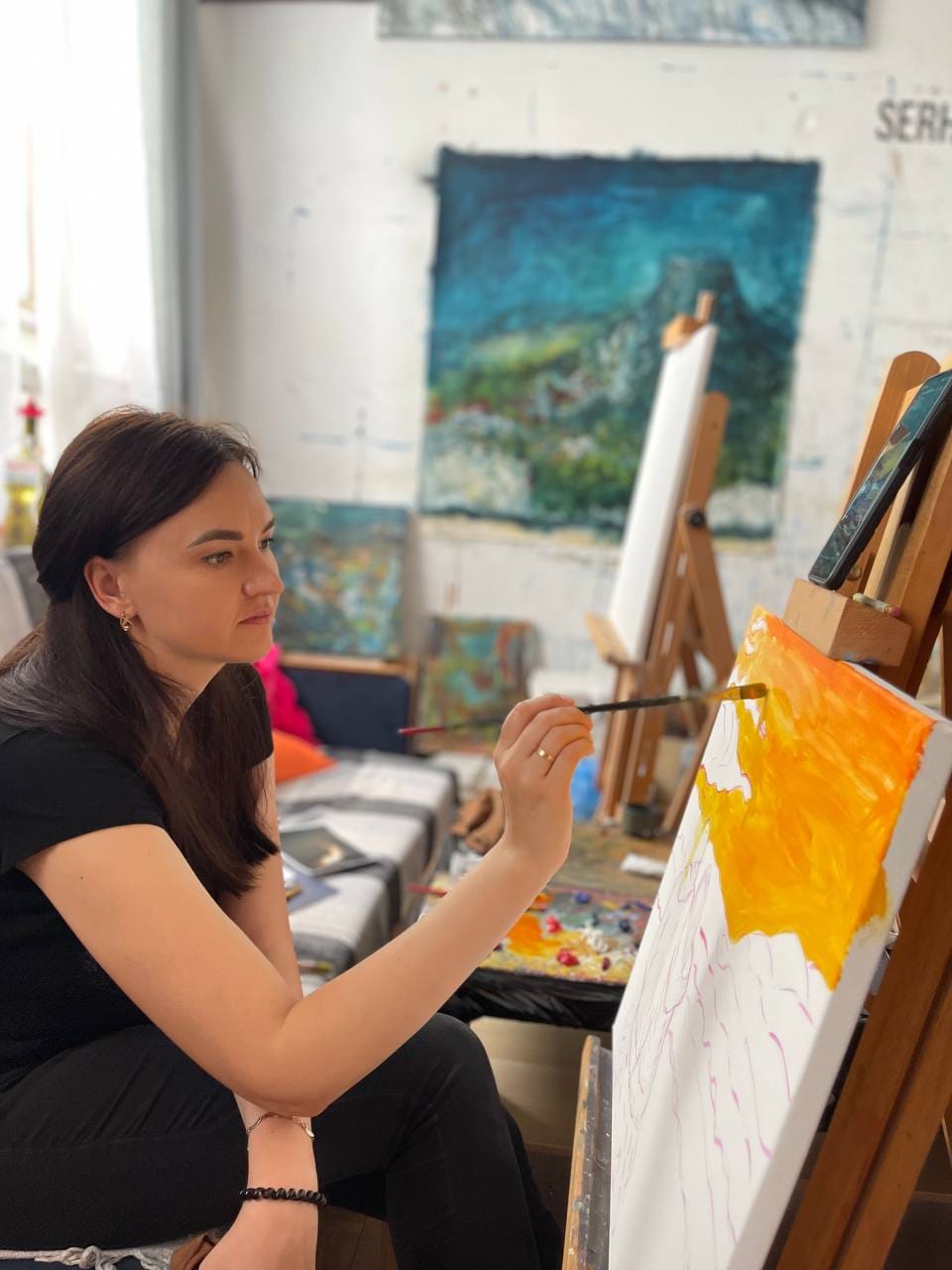 This is a cool project. Although, I admit, it was sometimes very difficult for me to convince the girls to join it. At first, they all say: "I don't have the strength, I want to die, what paintings?" Yes, you don't want to do anything in grief, you don't want to live. But such therapy really has a healing power. A large-scale exhibition is planned for the final stage of the project.
"You have the right to any emotion, even if outsiders think you're crazy"
How do you get over grief? I would rather say learn to live with it, because it is impossible to get over it. No matter how much time passes, it will always be with me. I will always remain the wife of a fallen hero. A person who has lost a loved one. This cannot be changed.
But to live despite the loss is a task that every wife and mother faces. It's not easy... Everyone has to find a thread to hold on to. Some people say you have to hold on for the sake of your children. But we have women who do not have children. So what should they do now, not live? Everyone has to find their own meaning. In volunteering, in helping others, in work, in hobbies, in family. There is no universal recipe that can be applied. We are all different.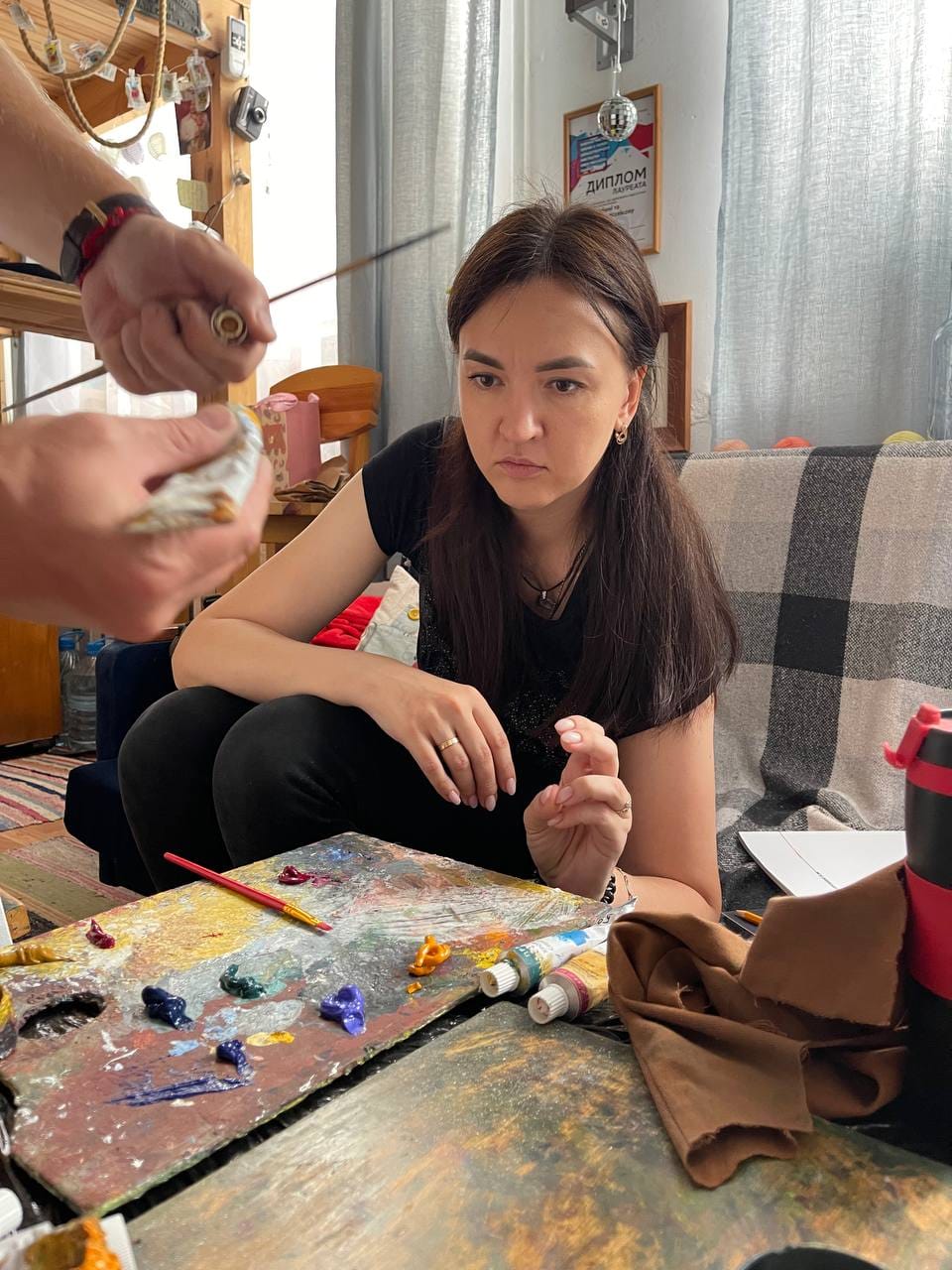 The only thing I want to advise everyone is to allow yourself to feel. If you feel like hating the whole world today, that's normal. If you don't want to talk to anyone, it's okay. You have the right to have any emotions and feelings, even if outsiders think you've gone crazy.
Do not be afraid of yourself in grief. This is the first thing you need to learn.
Author: Alina Logvinenko
Photo: personal archive of Alina Karnaukhova