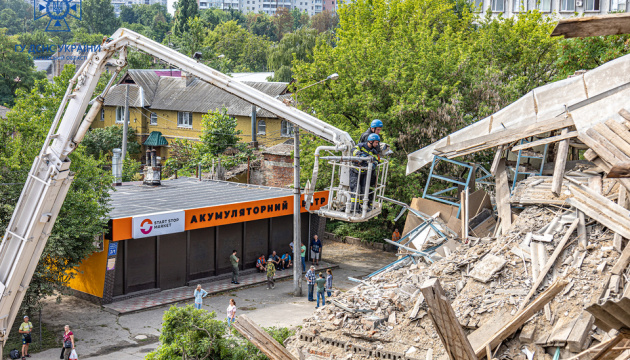 Russia's drone attack on Kharkiv: Dismantling works may last several days
Rescuers and municipal workers continue working across the locations affected by Russia's overnight drone attack on the city of Kharkiv. Dismantling works may last a day or two.
The relevant statement was made by Kharkiv City Council on Telegram, referring to Kharkiv Mayor Ihor Terekhov, an Ukrinform correspondent reports.
"Last night in Kharkiv was very challenging. Three projectiles hit the targets. One of them struck a dormitory, where we will now be dismantling the rubble together with the State Emergency Service. Fortunately, it was not in service. Some projectiles also hit the central part of the city. Additionally, the road surface was struck nearby. We have involved all municipal enterprises to dismantle the rubble and restore road traffic as soon as possible. A day or two are needed, depending on the damage caused to the objects themselves," Terekhov noted.
Video: United News nationwide telethon
According to Terekhov, Russian invaders attacked Kharkiv with about 10 unmanned aerial vehicles. Thanks to the efforts of the air defense units, only three of them reached the city.
Video: Ukrainian State Emergency Service, Telegram
During a nationwide telethon, Kharkiv Regional Military Administration Head Oleh Syniehubov mentioned that rescuers had been carrying out firefighting works until 6 o'clock in the morning.
"Now, they continue working at the scene to remove the destroyed structures, so that they do not threaten civilians passing by, as these are densely populated neighborhoods with a lot of people and residential buildings," Syniehubov told.
In his words, a sports complex, where the future Olympic athletes used to be trained, was seriously damaged, nearly ruined completely.
A reminder that, on the night of August 1, 2023, Russian drones attacked the city of Kharkiv. One of projectiles hit a 3-storey building of the educational institution in the Saltivskyi district, having smashed two floors and caused a fire. A sports complex was struck in the Shevchenkivskyi district. A 2-storey building was damaged, and a security guard, 63, was injured and taken to hospital.
Photo: Kharkiv City Council