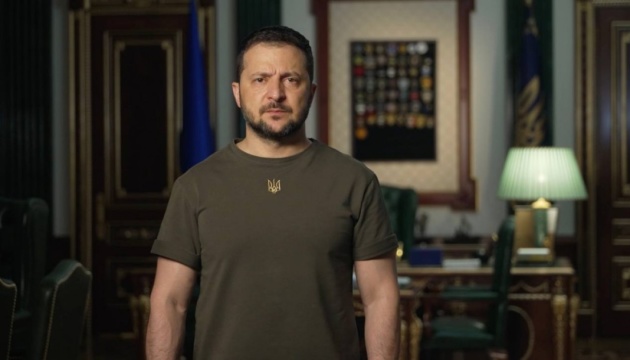 Zelensky: Ukrainian military needs enough long-range weapons to protect lives of Ukrainians
In order to protect the lives of Ukrainian men and women, the Ukrainian military needs to have enough long-range weapons.
Ukrainian President Volodymyr Zelensky said this in a video address, Ukrinform reports.
Dear Ukrainians!
Today at 7 p.m., the rescue operation in Kryvyi Rih on the site of the Russian missile strike was completed. It was two Iskander missiles. Ballistic missiles against a residential building. In one entrance, floors 4 through 9 were destroyed. Just against civilians, ordinary people, children. This is terrorism, which no one in the world will call otherwise.
As of now, six people are known to have been killed, including a child, a girl, her name was Darya. She was only ten years old... Her mother died with her, her name was Nataliya... An ordinary family in an ordinary city whose lives were destroyed by Russian murderers. My condolences to all those who lost their loved ones…
69 people were injured. Dozens are now in hospitals. Some of them are in serious condition. Everyone is being provided with the necessary assistance. And I thank everyone who is fighting for people's lives! The rescue operation was difficult. Parts of the building structure were falling. There was a fire on the fourth floor. In total, more than 350 employees of the State Emergency Service, police, and utilities were involved in the rescue. Volunteers also helped. I am grateful to everyone!
Today I would like to especially mention the following employees of the State Emergency Service for the rescue operation in Kryvyi Rih: Lieutenant Vadym Kuchkurda, Junior Sergeant Volodymyr Hembichner, Petty Officer Viktor Ilika and Deputy Commander of the State Paramilitary Mining Rescue Detachment Serhiy Bytsko. Police officers: Lieutenant Colonel Mykola Harmash and Captain Roman Bondarchuk. Doctors: Vladyslav Voloshyn and Kostiantyn Isaychenkov. National Guardsmen: Sergeant Andriy Holovin, Captain Denys Tereshchenko. Utility workers Serhiy Dmytriyev and Andriy Shayda. Volunteers: Larysa Sydorenko and Viktoria Tretiak. Thank you!
It is very important when we all defend lives together and help overcome Russian terror!
According to preliminary data from our military, these two missiles were fired at Kryvyi Rih from the territory of the temporarily occupied Crimea, from the area of Dzhankoy. And this proves again and again that for the safety of our cities, for the protection of the normal life of Ukrainians and our children, our military must have enough long-range weapons, enough means to defeat terrorists. The world's sanctions pressure against Russia deserves a significant increase.
And now there is more and more open information, including investigations by journalists, about how a terrorist state circumvents global sanctions and obtains critical components for weapons production. And, by the way, we have repeatedly provided such information to our partners in a classified regime.
We must act together. Significantly strengthen sanctions for terror. Significantly limit the channels of delivery of critical components for missile production to Russia. And we must respond with determination - determination to supply Ukraine with the necessary modern weapons, including long-range missiles, so that we can remove this terrorist threat that Russia is creating against our people, against our children.
Today, Russian savages also shelled Kherson. They used artillery. A police officer was killed. My condolences. Nine people were wounded, including a child and four volunteers of the City of Power NGO…
Despite any Russian terror, despite any attempts by Russia to blackmail the world, our collective strength - of everyone in the world who values life - is enough to overcome evil. Not only can we defeat the terrorist state, but we can also ensure that justice prevails. When all those responsible for terror are held accountable. But for this we need to increase our cooperation and pressure on the aggressor every day, every week, every month. And I thank everyone in the world who is doing just that!
I thank everyone who defends freedom and humanity together with Ukraine!
And, of course, our warriors. Bakhmut. The whole of Donbas, Orikhiv and all our southern positions, the border, and everyone who keeps the regions of our country calm. Our defenders of the sky.
Thank you, our heroes! We are working on new weapons for you! Together we are bringing victory closer!
Glory to Ukraine!
Photo: Office of the President of Ukraine