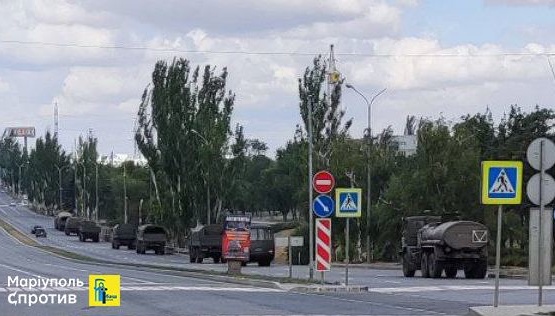 Russia moving military hardware, personnel toward Berdiansk - official
Enemy forces were seen moving through Mariupol, a southern Ukrainian port city temporarily captured by the Russian army, toward Berdiansk.
Petro Andriushchenko, an adviser to the Ukrainian mayor of Mariupol, announced this on Telegram and published photos and videos from the city, Ukrinform reports.
"We are recording a large movement of enemy forces through Mariupol in the direction of Berdiansk. At least two convoys of 30 pieces [of military hardware] were seen moving on Sunday from the direction of Novoazovsk in the direction of Manhush/Berdiansk. Trucks with anti-tank missiles and Rapira guns, fuel trucks and buses with manpower who are alive yet," Andriushchenko wrote.
He noted that this was the largest open movement since the beginning of the summer.
According to him, the partisans in Mariupol are now determining whether this is a replenishment of the training camps instead of the personnel that were transferred to the Berdiansk and Mariupol sectors last week, or a direct replenishment on the front line in the Zaporizhzhia region.