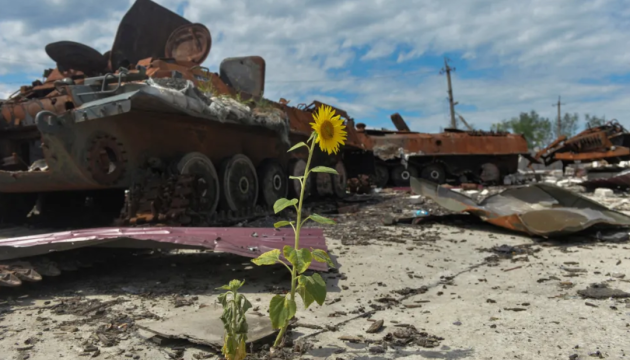 Russian attacks on Ukraine's military objects cause over UAH 305B in environmental damage
Russian armed aggression has seriously affected Ukraine's environmental security, and Russian attacks against the country's military objects have caused over UAH 305 billion in environmental damage.
The relevant statement was made by Head of the Environmental Safety and Mine Action Department at the Ukrainian Defense Ministry Ruslan Berehulia during a briefing, an Ukrinform correspondent reports.
"Russian aggression against Ukraine has seriously affected the environmental security of the entire country, especially in the areas that used to be under occupation and where hostilities took place. Russian troops are destroying oil depots, bombing and shelling enterprises and factories, burning down forests, and creating threats to nuclear power facilities. This results not only in huge losses but also causes irreparable damage to the environment: destruction of ecosystems, soil pollution, and reduced biodiversity," Berehulia told.
Currently, it is impossible to calculate the damage caused, as the active phase of hostilities is underway. Meanwhile, in order to determine the environmental losses in 2022-2023, the ministry inspected 55 military objects, where cases of environmental damage had been recorded.
"At the moment, the total environmental damage reached more than UAH 305 billion, including over UAH 300 billion as soil pollution caused by waste from the ruined infrastructure; about UAH 700 million as soil contamination with petroleum products and other dangerous chemical substances; about UAH 4 billion as unorganized emissions of pollutants into the air. The amount of the damage caused to the forest fund came to about UAH 7 million," Berehulia noted.
According to him, the above amount of environmental damage is not final and will further increase if Russia continues its policy of armed terror.
Photo: ecoaction.org.ua