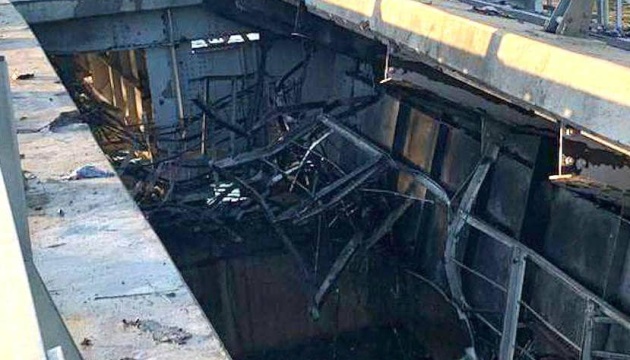 SSU about "cotton" on Crimean bridge: all details - after Victory
The Security Service of Ukraine will disclose all the details about the organization of "cotton" on the Crimean bridge after the Victory.
That's according to a commentary provided to Ukrinform by SSU spokesman Artem Dekhtiarenko on the incident on the Crimean bridge.
"Given the numerous media inquiries regarding the latest incident on the Crimean Bridge, we would like to inform that the Security Service of Ukraine will disclose all the details of the organization of the "cotton" after our Victory. In the meantime, we are watching with interest how one of the symbols of the Putin regime has once again failed to withstand the military load," the spokesman said.
At the same time, the Security Service reminded that in an interview, Head of the SSU Vasyl Maliuk stated that the norms of international law, analysis of the operational situation and traditions of warfare allow cutting off the enemy's logistics routes. The Crimean bridge is currently one of the transportation corridors for military supplies for the Russian army.
As Ukrinform reported, according to preliminary data, a section of the Kerch Bridge collapsed around four in the morning on July 17. It was preceded by an explosion. At least two people were reported dead and one injured. Huge queues formed in front of the bridge. Train traffic was also stopped.
The Main Intelligence Directorate of the Ministry of Defense of Ukraine recalled the words of its head Kyryl Budanov that the Kerch Bridge is a redundant structure.