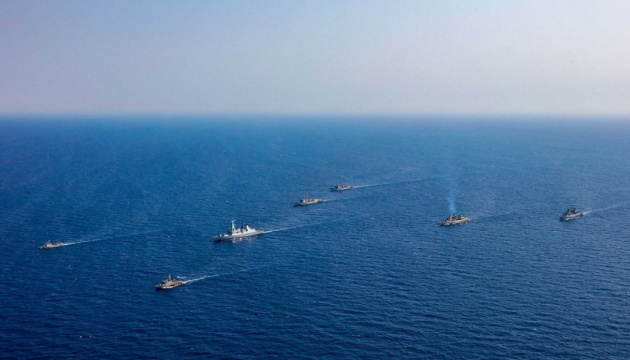 Eleven Russian warships combat ready in Black Sea, two Kalibr carriers among them
This morning the number of Russian warships in the Black Sea has increased to 11. Two missile ships are among them with a total volley of 12 Kalibr-type cruise missiles.
The relevant statement was made by Spokesperson for the Naval Forces of the Armed Forces of Ukraine Dmytro Pletenchuk during a nationwide telethon on We-Ukraine TV Channel, an Ukrinform correspondent reports.
"The operational situation has changed. Now, there are eleven warships in the Black Sea, and one Kalibr-type cruise missile carrier in the Mediterranean Sea – as far as I can see, it came back after replenishment," Pletenchuk told.
When asked why the number of warships in the Black Sea increased, but the number of missile carriers remained the same, Pletenchuk replied that it is too early to make assumptions.
"These are different combat units. Perhaps, this movement occurred as they felt some threat, for example, in the Sevastopol Bay. There are numerous reasons as to why they ended up in the sea," Pletenchuk noted.
A reminder that, between February 24, 2022 and July 16, 2023, Russia's total combat losses in Ukraine reached about 237,680 troops.
Photo: MoD Photo