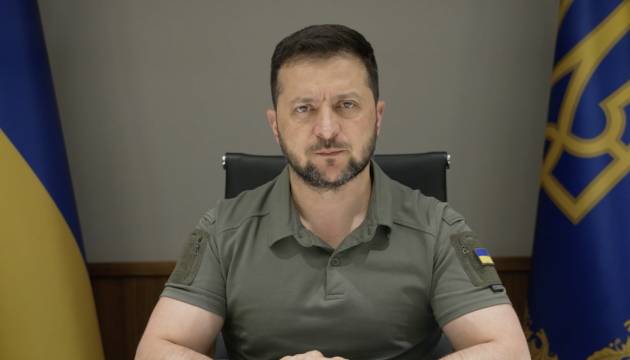 President Zelensky: Every success of each of our combat brigades deserves gratitude
Every thousand meters of advance, every success of each of our combat brigades deserves gratitude.
The relevant statement was made by Ukrainian President Volodymyr Zelensky in his video address, an Ukrinform correspondent reports.
The full text of the speech is provided below:
I wish you health, fellow Ukrainians!
Today's key points.
I held a very detailed meeting of the Staff, focused primarily on the frontline. The situation in all key areas of action - both defense against Russian assaults and our active steps forward. Plus everything that is important for this. Shells, weapons, equipment. The rational use of shells, supplies from partners and our own Ukrainian production. Logistics.
As always at the Staff, there were reports from our commanders: The Commander-in-Chief, the commanders of operational directions... Zaluzhny, Syrsky, Tarnavsky... Commanders from specific areas of the frontline. And also Minister of Internal Affairs Klymenko. Head of the Border Guard Service Deyneko. There was an important report by Chief of the Main Intelligence Directorate Budanov on the situation in Belarus - we are closely monitoring what is happening there in terms of security. As of today, there are no large-scale threats. Our full focus is on the frontline.
We must all understand very clearly - as clearly as possible - that the Russian forces on our southern and eastern lands are investing everything they can to stop our warriors. And every thousand meters of advance, every success of each of our combat brigades deserves gratitude. Everyone who goes on the offensive, everyone who repels enemy attacks, are doing a great job, and I am grateful to each of our warriors!
This week we have not yet finished the planned international work. There will be important negotiations for Ukraine. And we are already preparing for the coming weeks. We will not reduce our international activity for a single day, in particular with regard to the Peace Formula, security guarantees for Ukraine on its way to NATO, and agreements with partners on weapons for Ukraine and sanctions against Russia. We are also preparing new NSDC decisions on sanctions.
I continue meetings on the transformation of Ukraine. Today it concerned military education. All the experience of our warriors, all the competencies acquired by Ukrainians in the war, our new defense experience shared with our partners - all this must be integrated into the updated Ukrainian military education.
It is clear that this industry at the state level deserves a significant upgrade. And it is very important that those who are actually defending our country and are already training our country's defenders be involved in the discussion of such an upgrade.
And one more thing.
Today, I took part in a conversation in America - at a conference with the heads of the largest and most promising global companies and major philanthropists. Investments, jobs in Ukraine, support for our country and people... Ukrainians have now realized the enormous potential of our country. All of it is aimed at our defense. But when we end the war, Ukrainian potential must be invested in Ukrainian development. The world is waiting with great interest to see what this development will be like, what the victorious Ukraine will bring to the world. And this is a question for everyone in Ukraine who works for the state, who plans to work for the state... everyone should ask themselves this question now. And find answers.
Ukraine has become a global force. And it should become a force for global development. I am confident that it will.
Glory to all those who are fighting for Ukraine! I thank everyone who defends our country!
Glory to Ukraine!
Photo: Office of the President of Ukraine