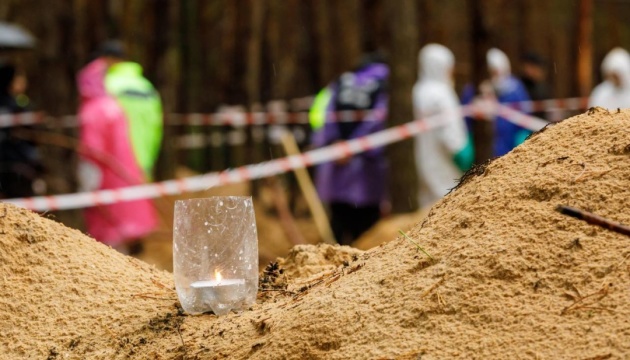 Over 10,500 civilians killed, 94,000 war crimes committed by Russia in past 500 days
Russian invaders have killed over 10,500 Ukrainian civilians, committed 94,000 war crimes and destroyed 115,000 civil infrastructure objects in Ukraine since the full-scale invasion started.
The relevant statement was made by Ukrainian Prosecutor General Andrii Kostin on Telegram, an Ukrinform correspondent reports.
"Five hundred days ago, Putin's Russia launched the war conveyor in full force. 94,000 war crimes committed and 115,000 civil infrastructure objects destroyed. Over 10,500 Ukrainian civilians killed, including about 500 children. But, no crime will go unpunished," Kostin wrote.
In his words, since the early days of Russia's full-scale invasion, the Ukrainian side has ensured the stable performance of the law and order system. The aggressor's crimes are being documented and investigated under the international standards.
According to Kostin, prosecutors, investigators from the Security Service of Ukraine and the police are working around the clock to bring Russian invaders to justice in Ukrainian and international courts.
"There are already 353 suspects, 219 accused, and 53 criminals received sentences in Ukrainian courts," Kostin noted.
The Prosecutor General mentioned that, together with international partners, Ukraine had established a real coalition of justice, and the daily cooperation with the International Criminal Court (ICC) resulted in the first warrant for Putin's arrest.
In addition, the International Centre for the Prosecution of the Crime of Aggression against Ukraine (ICPA) opened in The Hague, which is the first element of the future tribunal, and the International Register of Damage was created to ensure reimbursement for those affected by the war.
"The path to justice is not easy. But, we are moving forward. Together with the entire civilized world," Kostin concluded.
A reminder that, on February 24, 2022, Russia started a full-scale invasion as a new phase of its war against Ukraine, which had been lasting since 2014. Ukraine's Defense Forces have de-occupied around 1,900 settlements and eliminated about 233,440 Russian invaders over the past 500 days.