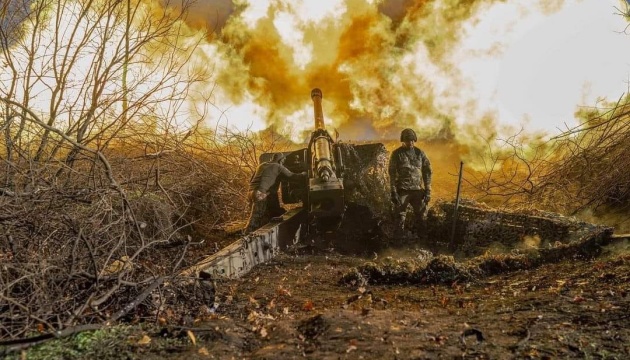 Ukrainian Forces take control of several positions near Krasnohorivka, which Russia held since 2014
In the Tavria direction, the Defense Forces killed 104 occupiers, wounded 202, and captured two.
The spokesperson for the Joint Press Center of the Tavria Defense Forces Valerii Shershen said this on the air of the United News telethon, Ukrinform reports.
"In the Tavria direction, our troops and strike units continue to conduct offensive actions in the designated areas. We are making progress, consolidating our positions, clearing mines, and achieving tangible results, but we are not going to talk about the results yet. Accordingly, the nature of the Russian occupation forces' actions here has not changed, they are focused on preventing our further advance. Over the past day, the enemy's losses in personnel are significant: 104 irrecoverable casualties, 202 sanitary casualties, and two people were captured. 34 units of weapons and military equipment were destroyed," the spokesman said.
According to him, missile and artillery units of the Tavria direction carried out over 1230 firing missions over the last day.
The enemy tried unsuccessfully to conduct offensive operations near Avdiivka and Mariinka and was rebuffed.
At the same time, the settlements of Krasnohorivka, Marinka and Heorhiivka were shelled with enemy artillery. The occupiers also launched an unsuccessful offensive towards Vuhledar and Zolota Niva.
Near Krasnohorivka, the assault units of the Defense Forces, as a result of a well-planned counterattack, seized several positions held by the enemy since 2014.
Regarding the Zaporizhzhia direction, the spokesman said that the enemy is concentrating on defense, focusing its main efforts on preventing the Defense Forces' offensive. The Russian occupiers tried to regain the lost positions near Makarivka, launched air strikes on Novodanylivka, Orikhiv and Stepnohirsk.
At the same time, Shershen noted that the enemy is no longer moving from Kherson region to Zaporizhzhia.
"The enemy has already moved everything it could from the left-bank Kherson region, having strengthened its positions by using rotation. We do not observe any active movement from the flooded areas," the spokesman said.
As Ukrinform reported, the day before, in the Tavria direction, Russian troops lost more than three companies killed and wounded, and 51 pieces of military equipment were destroyed.