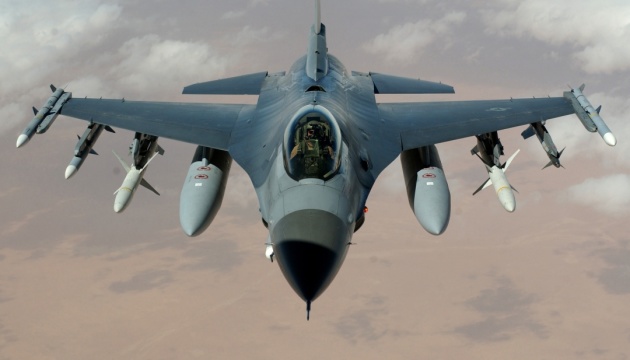 Ukrainian F-16 pilot training has started - Stoltenberg
Several NATO countries have announced their initiative to train Ukrainian military pilots to fly modern fighter aircraft, such as the F-16s, which opens up the possibility to consider the decision on their delivery to Ukraine when the pilots are ready for this.
NATO Secretary General Jens Stoltenberg said this before the meeting of NATO ministers of defense in Brussels on Thursday, June 15, according to an Ukrinform correspondent.
"I welcome the decision by several NATO allies to provide the training of [Ukrainian] fighter pilots. This is important and it will enable us to, at the latest stage, also make decisions to deliver fourth-generation fighter aircraft, like, for instance, the F-16s," he said.
He also commended Denmark for playing a leading role in facilitating this agreement, offering to train Ukrainian pilots and continuing to provide significant support to Ukraine.
"It's too early to say when exactly this decision will be taken. But the fact that training has started provides us with the option to also decide to deliver the planes and then the pilots will be ready to fly them," Stoltenberg said.
He recalled that early this week, he visited Washington to discuss preparations for the Vilnius summit with U.S. President Joe Biden. Among the main topics of these negotiations were aid for Ukraine, the need to strengthen NATO's defense investment pledge, and other important issues for the alliance.
A two-day meeting of NATO defense ministers began in Brussels on June 15. The main issues of the summit are the continuation of assistance to Ukraine in its fight against Russian aggression and preparations for the NATO Summit in Vilnius on July 11-12.
As part of the meeting, there will be a meeting of the NATO-Ukraine Commission and a meeting of the Ukraine Defense Contact Group led by the United States. One of the key issues of this meeting will be the creation of the so-called fighter jet coalition, which will contribute to the provision of modern fourth-generation fighter jets to Ukraine for its self-defense and fight against Russian aggression.