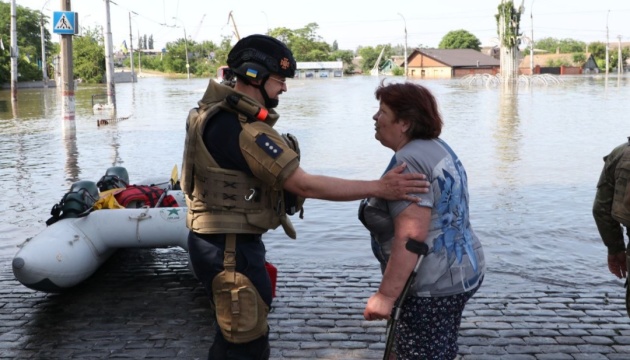 2,339 people already evacuated from flood zone in Kherson region
As of the evening of June 8, it was possible to evacuate 2,339 people, including 120 children, from the flood zone in Kherson region.
As the State Emergency Service of Ukraine posted on Telegram, 563 people have been rescued, including 28 children. Psychological assistance was provided to 201 people. Nine evacuation points are fully operational.
According to preliminary data, a total of 32 settlements and 3,625 houses on the right bank of the Dnipro River have been flooded.
About 1,817 people and more than 345 pieces of equipment are involved in the liquidation of the consequences, including 809 rescuers and 171 pieces of equipment from the State Emergency Service, as well as 45 watercraft.
The Ministry of Internal Affairs emphasizes that the evacuation is ongoing.
As reported, on June 6, Russian troops blew up the Kakhovka HPP. Energy facilities in Kherson region, in particular the Kherson thermal power station, are at risk of flooding. Evacuation of people from potential flooding areas continues.
Photos: State Emergency Service