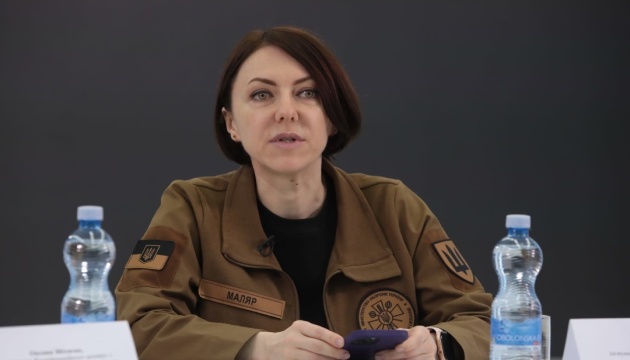 Maliar: Invaders' influence in south rapidly decreasing, civilians ignore their instructions
The influence of the Russians in the temporarily captured territories of the south of Ukraine is rapidly decreasing, the invaders resort to punitive measures.
"The influence of the Russian occupation administrations in the temporarily occupied territory of Ukraine is rapidly decreasing due to their inability to maintain appropriate living conditions of the local population," Deputy Minister of Defense of Ukraine Hanna Maliar posted on Telegram.
According to her, residents of many temporarily captured settlements of Zaporizhzhia and Kherson regions demonstratively disregard the orders of the "administrations" and express distrust of Russian propaganda.
Maliar emphasized that truthful information about the situation at the front is spreading more actively among citizens, and the share of the pro-Ukrainian population is growing.
To counter these trends, the command of the Russian troops resorted to harsh massive punitive actions.
"In particular, last week, Kyrylivka village in the temporarily occupied territory of Zaporizhzhia region was encircled by Russian troops for several days, during which total filtration of the local population, raids on local infrastructure facilities and citizens' homes were carried out. Representatives of Russia's FSB checked especially thoroughly the citizens who were reported to have pro-Ukrainian views, including based on denunciations," Maliar added.
In most cases, such people were immediately detained by the invaders and taken away for interrogation. Some of them did not return to their places of permanent residence after interrogation, their fate is currently unknown.
As reported, Russian troops blew up the Kakhovka HPP on June 6. Water has surrounded the town of Oleshky in Kherson region, captured by Russian troops. People save themselves by climbing on the roofs, no one is coming to help them. In the populated settlements of occupied Hola Prystan community in Kherson region, water level reaches 3.5 m in some places and keeps rising.