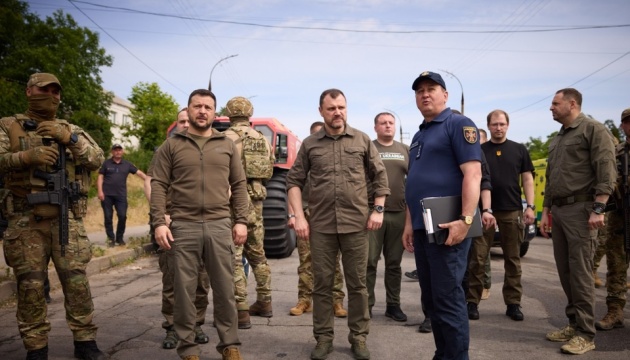 Zelensky arrives in Kherson region on working visit
President Volodymyr Zelensky has arrived in Kherson region on a working trip.
"Working trip to Kherson region. A coordination meeting on the liquidation of consequences of the Kakhovka HPP dam explosion," Zelensky wrote on Telegram.
According to him, "many important issues were discussed. The operational situation in the region as a result of the disaster, evacuation of the population from potential flood zones, elimination of the emergency caused by the dam explosion, organization of life support for the flooded areas. Also, the prospects for restoring the region's ecosystem and the operational military situation in the man-made disaster area."
The President stressed that it is important to calculate the damage and allocate funds to compensate residents affected by the disaster and develop a program to compensate for losses or relocate businesses within Kherson region.
As Ukrinform reported, in the early hours of June 6, the Russian army blew up the Kakhovka HPP dam. The population is being evacuated from dangerous areas of Kherson region.