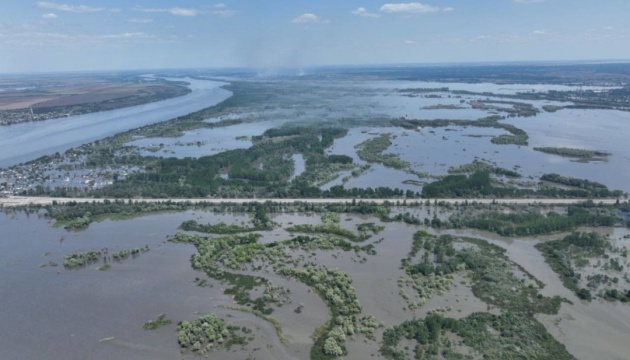 Occupiers don't evacuate people from left-bank Kherson region, obstruct volunteers
The Russian aggressors failed to evacuate the people from left-bank Kherson region, which they occupied, and they can also use the situation with the Kakhovka HPP dam explosion to displace people from the affected settlements to the territory of Russia.
"The situation on the left bank is horrible... A large number of people found themselves in a situation where they could not leave. They stay on the roofs of flooded houses. The occupation authorities completely failed the evacuation," Yuriy Sobolevskyi, the First Deputy Chairman of the Kherson Regional Council, told a briefing at the Media Center Ukraine—Ukrinform.
In his opinion, the Russian aggressors did not really intend to carry out evacuation because they began to take the first steps in this direction on June 6 around noon and did not cancel the curfew.
According to Sobolevskyi, the Russian military was not involved in the evacuation processes, they did not help the population. As noted, on the contrary, the Russian military prevented volunteers from working. "The Russian military simply created obstacles for people who tried to help their neighbors," he said.
In particular, according to him, there are reports of cases of extortion of money by the Russian military for allowing residents on boats to take victims from the roofs of houses.
"The situation there is very difficult, and in order to help our people, the only solution now is to involve international organizations so that they put pressure on the Russian Federation to allow international organizations to work there so that they can help these people," Sobolevskyi said.
Also, the occupation authorities did not ensure access to medical care for residents of the affected areas.
"And there is a big doubt that there will be any steps to help the people who suffered from this terrorist attack," Sobolevskyi commented. He assumes that the population is most likely to be offered the so-called evacuation to the Russian Federation. He is sure that the occupation authorities will use this tragedy to displace people to the territory of Russia.
As reported, Russian troops blew up the Kakhovka HPP on June 6.
Water surrounded Oleshky town in Kherson region, captured by Russian troops. People save themselves, climbing to the roofs. No one is coming to help them. In the populated settlements of occupied Hola Prystan community of Kherson region, water is arriving, its level reaches 3.5 m in some places. In Nova Kakhovka, the Russian invaders did not evacuate people but took away the looted property.
Photo: libkos