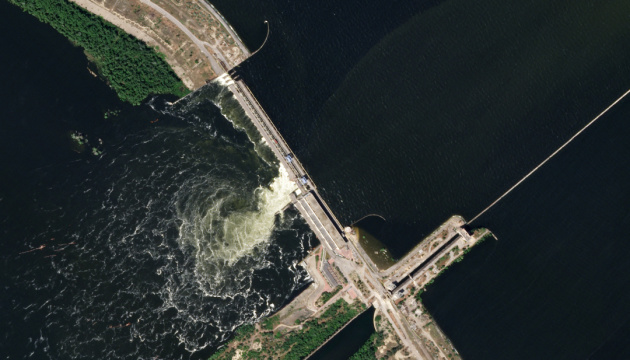 Destruction of Kakhovka HPP dam may cause additional flooding - British intel
The structure of the dam at the Kakhovkaa Hydroelectric Power Plant continues to collapse. The process could cause additional flooding over the next few days, British intelligence analysts said.
That's according to the UK Defense Ministry citing an intelligence report, Ukrinform learned.
It is noted that the water level in the Kakhovka Reservoir was at a record high before the dam collapsed, resulting in a particularly high volume of water inundating the area downstream of the Dnipro River.
The Zaporizhzhia nuclear power plant, located 120 km away from the dam, is highly unlikely to face immediate additional safety issues due to dropping water levels in the reservoir, according to British analysts.
"The dam's structure is likely to deteriorate further over the next few days, causing additional flooding," the report said.
As Ukrinform reported earlier, the UN Security Council met on Tuesday to discuss the situation that arose after Russian troops blew up the Kakhovka HPP dam.
Photo: Planet Labs