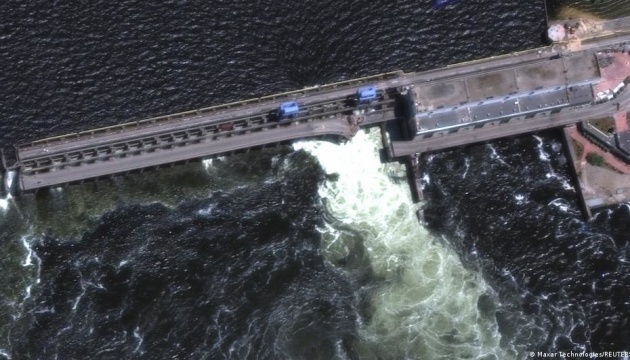 Kakhovka HPP explosion causes flooding of Russian positions
The explosion at the Kakhovka HPP has caused the flooding of the positions of Russian military units and may wash out Russian minefields and trigger their chaotic detonation.
"Positions of Russian military units have been flooded, which may lead to large-scale washing out of Russian minefields and their detonation in a chaotic manner," Deputy Minister of Defense of Ukraine Hanna Maliar posted on Telegram.
According to her, the Russian terrorist army has committed another crime capable of causing a serious ecological and humanitarian disaster. The Russian occupiers purposefully blew up the dam to stop the process of de-occupation by the Armed Forces of Ukraine and shift the vector of public attention from the events taking place in Russia's Belgorod region. Instead, the Russian occupiers had the opposite effect.
The deputy minister also noted that civilians in the temporarily occupied settlements of Kherson region and Crimea are currently in a critical situation as the destruction of the dam deprived them of fresh water.
As reported, Russian troops blew up the Kakhovka HPP on June 6. The plant was completely destroyed as an engine room was blown up from the inside. There are flood risks for energy facilities in Kherson region, in particular the Kherson thermal power station. Evacuation of the population from potential flooding areas has begun.
The joint statement by EU High Representative Josep Borrell and Commissioner for Crisis Management Janez Lenarčič says that the commanders of Russian units and the direct perpetrators of the destruction of the Kakhovka HPP dam, as well as those responsible for the destruction of other civilian infrastructure objects in Ukraine, will be held accountable in line with international law.
Photo: Maxar