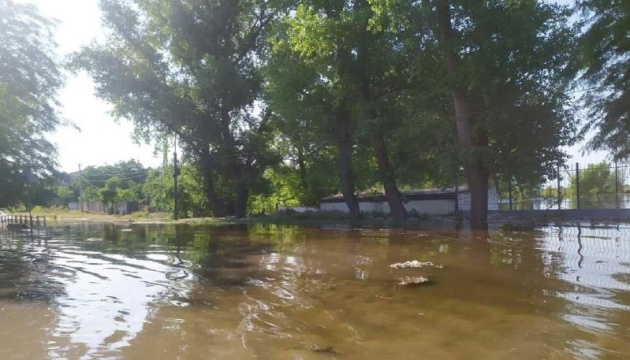 How Antonivka flooded due to explosion of Kakhovka HPP
The Kherson community showed how Antonivka, a suburb of the regional center, is flooding as a result of the Russians' explosion of the Kakhovka hydroelectric power plant.
Secretary of the Kherson City Council Halyna Luhova posted the video on Facebook.
"Antonivka, Green School area, the situation now. Antonovka residents are holding on! They do not lose heart, they support each other! They are united, as always!" she said in a statement.
According to Luhova, dozens of calls are coming in from different parts of Ukraine and different countries, from ordinary people, volunteers who are ready to help and evacuate.
The video shows a comment that the school has already been flooded - there is water everywhere.
As Ukrinform reported, on the night of June 6, Russian troops blew up the dam of the Kakhovka hydroelectric power plant. About 16,000 people are in the disaster zone on the right bank of the Kherson region. Evacuation has been announced.
On the left bank of Kherson region, the village of Krynky in the Oleshky community temporarily occupied by Russian troops is flooded.
In Nova Kakhovka, the Russian invaders are not evacuating people but are taking away loot.
The Ukrainian Armed Forces liberated the right-bank part of Kherson region, including the city of Kherson. Part of the region, located on the left bank of the Dnipro River, is temporarily occupied by Russian troops.
The first photo from social media