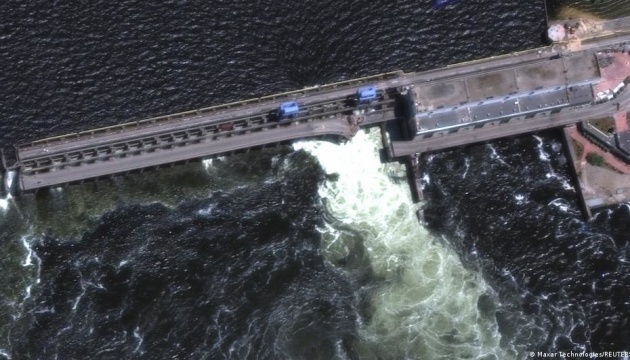 Destruction of Kakhovka HPP: Zelensky shares video showing aftermath
President Volodymyr Zelensky shared a video showing the aftermath of the Kakhovka HPP destruction by Russians.
The Head of State shared the relevant video on his pages in social networks, Ukrinform reports.
"This is just one day of Russian aggression. This is just one Russian act of terrorism. This is just one Russian war crime. Now Russia is guilty of brutal ecocide. Any comments are superfluous. The world must react. Russia is at war against life, against nature, against civilization. Russia must leave the Ukrainian land and must be held fully accountable for its terror," the President stressed.
As Ukrinform reported, on the night of June 6, Russian troops blew up the Kakhovka HPP dam. About 80 settlements have turned out to be in the flooding zone. The evacuation of the population is ongoing.
President Volodymyr Zelensky held an urgent meeting of the National Security and Defense Council of Ukraine.
Photo: Maxar Technologies