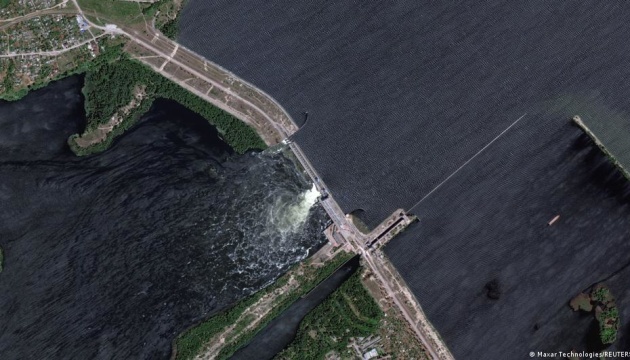 About 16,000 people in disaster area following Kakhovka HPP explosion
About 16,000 people are currently in the disaster area on the right-bank Kherson region as the Russians blew up the Kakhovka HPP dam.
"As of now, we understand that about 16,000 people are in the disaster area on the right bank of the Dnipro River," Oleksandr Prokudin, Head of the Kherson Regional Military Administration, said during the United News telethon.
According to him, a separate headquarters has been created in each territorial community which is responsible for its territory.
"As of 07:30, the following settlements are flooded completely or partially: Tiahynka, Lvove, Odradokamyanka in Beryslav district; Ivanivka, Mykilske, Tokarivka, Poniativka, Bilozerka, Ostriv microdistrict in Kherson city – this is Kherson district," Prokudin said.
According to him, other settlements are likely to be flooded as well, and the authorities are ready for this. Currently, the residents of these settlements are evacuated by buses to Kherson city, and then to Mykolaiv, and from there to Khmelnytskyi, Odesa, Kropyvnytskyi, Kyiv, and other cities. At 12:00, an evacuation train will depart from the Kherson railway station to Mykolaiv.
Prokudin noted that the people are being informed, and issues of providing humanitarian aid – drinking water, food, etc. – are being worked out.
As for the Russian-occupied left bank of Kherson region, he emphasized that the Ukrainian authorities urged the residents of the region to move to safe places.
As reported, on the night of June 6, the Russian army blew up the Kakhovka hydroelectric power plant (HPP) dam.
The evacuation of people from dangerous areas at risk of being flooded has begun in Kherson region.
The Armed Forces of Ukraine liberated the right-bank part of Kherson region, in particular the city of Kherson. Part of the region, located on the left bank of the Dnipro River, is temporarily occupied by Russian troops.
Photo: Maxar Technologies