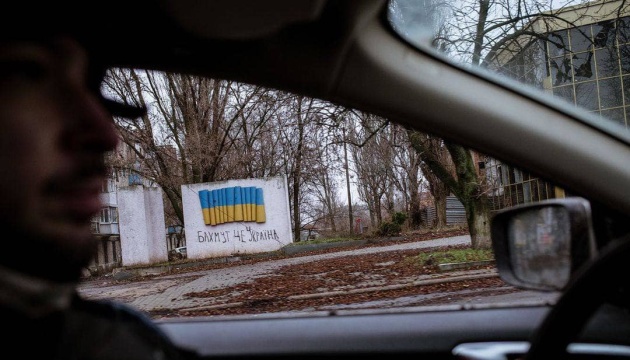 Minister Reznikov rejects Moscow's claims of establishing full control over Bakhmut
Ukrainian Defense Minister Oleksii Reznikov has rejected Moscow's claims of having captured the Donetsk region's Bakhmut.
The relevant statement was made by Ukrainian Defense Minister Oleksii Reznikov in an interview with CNA on the sidelines of the IISS Shangri-La Dialogue in Singapore, an Ukrinform correspondent reports.
"We use Bakhmut as a stronghold to reduce their [Russia's] offensive capability. We are [still] controlling this territory. [But] Bakhmut is no longer a city. They [the Russians] have wiped out everything. No residential buildings, no kindergartens, no hospitals. Nothing. It's an empty place," Reznikov told.
In his words, Russia has suffered over 60,000 casualties over the past eight months in a bid to seize control of the city.
According to Reznikov, Russia's use of mercenaries instead of its armed forces in the battle for Bakhmut showed incompetency and division within the Kremlin.
"This means it is not a good situation for them internally. It means the struggle among the Kremlin powers continues," Reznikov noted.
The minister also accused Moscow of using its soldiers like cannon fodder and imperialism, saying the Kremlin is trying to restore Russia to the past glory of the Soviet empire by using force over lost territories.
"They [the Russians] are still gathering lands. They cannot accept that small countries can live separately, independently, and with their own values. They still have an imperialism approach – the one great Russia or Soviet Union. But for us, the doctrine that 'might is right', is unacceptable," Reznikov emphasized.
Aside from Ukraine, Moscow has also incited unrest and violence in other nations, Reznikov mentioned, pointing to past and current conflicts in Georgia, Moldova, Syria and the Caucasus region.
According to Reznikov, air defense systems remain a top priority for Ukraine to deter Russian airstrikes on critical infrastructure.
"Russia is trying to stop our water, energy, heating supply in our residential houses, in our civilian places. We need to cover our skies. We need more sophisticated systems to deter Russia's attacks," Reznikov said.
Additionally, Kyiv needs more Western artillery and military vehicles, including battle tanks and armored personnel carriers, to protect its soldiers.
"We need the full support of the civilized world. We are fighting for the whole of mankind's values. This war is not only between Russia and Ukraine. It also will affect Africa, Asia, the world," Reznikov stressed, adding the conflict had disrupted supply chains and pushed up commodity prices for many countries.
When asked if Ukraine is winning the war unleashed by Russia, Reznikov replied with an unwavering "yes".
"The result of this win would be the full liberation of our occupied territories within our borders, including Crimea, Luhansk and Donetsk," Reznikov explained, referring to boundaries Ukraine had in 1991, at the time of the Soviet Union's collapse.
A reminder that the IISS Shangri-La Dialogue is taking place in Singapore on June 2-4, 2023. The war unleashed by Russia against Ukraine is one of the key issues in its agenda.