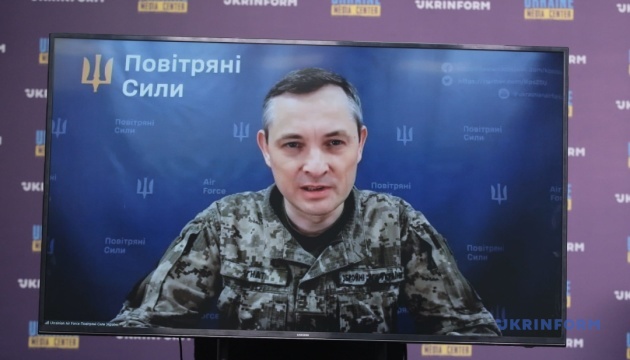 Russians on hunt for Ukraine's operational airfields - Air Force spox
To enhance protection against enemy missile attacks, more air defense capabilities are needed throughout Ukraine because the operational airfields remain a 'delicacy' for the enemy. In particular, last night, the enemy hit an airfield just outside Kropyvnytskyi.
That's according to a spokesperson for Ukraine's Air Force Command, Yuriy Ihnat, who spoke at the national telethon, answering the question of what the targets were of the Russian missiles and drones, which were not intercepted.
"Of course, not everything can be intercepted but still, the defenders of our sky perform miracles. And at this stage, May was full of strikes. This time it was six warplanes firing off six missiles, although it could have been much more. So it's a missile per plane. Also, there were five attack drones from the northern direction, launched at Sumy region, where damage was inflicted on infrastructure. As for cruise missiles, unfortunately, indeed, not all of them were destroyed, out of six, four were downed by air defenses, and two, unfortunately, hit our operational airfield near Kropyvnytskyi," Ihnat said, adding that it is necessary to strengthen air defense capabilities throughout Ukraine.
At the same time, he noted that the enemy cannot attack every day, and had they had more missiles in stock, the Russians would have surely increased the intensity of their strikes.
"There would be more (missiles - ed.), believe me, they would definitely fire them at military airfields. We have dozens of operational airfields. Unfortunately, this is a tasty treat for the enemy as Ukrainian aviation does not give them peace. They usually 'destroy' it in their news coverage, claiming they destroyed five, sometimes 10 planes, every week. In the end, they already "destroyed" the entire Air Force eight times probably. In our country, the Air Force operates at these dozens of operational airfields. Aviation has already carried out more than 30 sorties, over 10 airstrikes in the past day and on this day, too. Of course, the enemy doesn't like this," spokesman explained.
Ihnat assured that the Ukrainian Air Force is countering the enemy using all capabilities available, adding that some weapons provided by western partners have already been adapted to available fighter jets.
He once again emphasized the need for a multipurpose fighter to be supplied.
"We must understand that we still need a multi-purpose aircraft in order not to give the enemy a chance to even approach our borders, drop guided air bombs on us and even better protect our state from the air. Together with those air defense complexes, we need a modern warplane, then the sky will be closed and the aerial terrorism by the occupiers will be put to an end," Ihnat said.
As Ukrinform reported earlier, on the night of June 4, 2023, the enemy launched five Shahed-136/131 one-way attack drones from Bryansk region. In addition, six Kh-101/Kh-555 air-launched cruise missiles were launched by six Tu-95ms strategic bombers from the Caspian region. Four cruise missiles and three drones were destroyed.