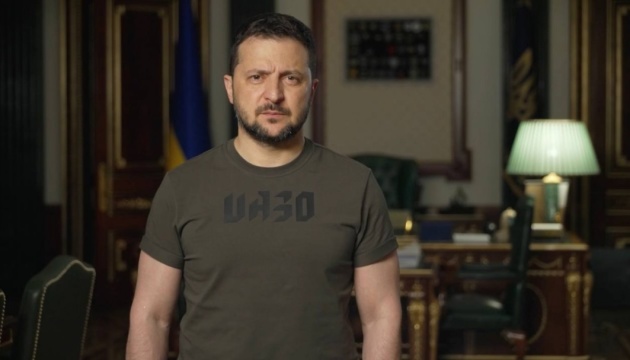 Zelensky: Don't forget to thank soldiers for their service
Our defense, actions, and independence are not something abstract – these are the actions of actual heroes, thanks to whom Ukraine is and will be out there.
President Volodymyr Zelensky said this in his address to the nation on the 465th day of the war, Ukrinform reports.
"I salute you, my dear Ukrainians,
Almost every night, in my appeals, I thank our soldiers – specific units, specific brigades, which performed the best on the front line or in defending our sky over a day or week.
And today I have a more personal 'thank you' to specific soldiers.
We must all remember that our defense, our active moves, and the independence of Ukraine are not something abstract. These are very specific people, specific actions of specific heroes, thanks to which Ukraine is and Ukraine will be out there. Thousands and thousands of our strongest, bravest, most skillful people...
People like soldier Yaroslav Kan, our paratrooper. He fought in the hottest spots of the front line. Bilohorivka, defense of Lysychansk, defense of Soledar. Battles for Svatove, Kreminna, Bakhmut... Four wounds! Now he is undergoing treatment, recovering. And he's ready to return to the front again. This is an extraordinary human might! Thank you, Yaroslav!
Senior Sergeant Yevhen Kepsha, anti-tank missile platoon commander. Battles for Bakhmut. ATGM Stugna. Really apt, really brave. Together with the boys, together with the brothers from their unit, he shows some very good results in destroying occupiers. Thanks for this, Yevhen!
Senior Sergeant Maksym Kuzmenko and Junior Sergeant Anton Andrushchenko, both with the 110th Separate Mechanized Brigade. Battles in the Avdiivka direction. Really tough battles. Constant enemy assaults. And this is the result Ukraine needs in defending our positions. Thank you, guys!
I have already thanked our soldiers from the 55th Zaporizhzhya Sich Artillery Brigade many times. These guys are all great. They fight very powerfully, very efficiently. And today I will particularly mention the artillery battery under the command of Captain Mykola Nosach. The Avdiivka direction. They tackle Russian assaults truly skillfully. That's exactly what's needed. Thank you, Mykola! It's great to see reports of your precision fire.
Soldiers with our 128th Separate Mountain Assault Zakarpattia brigade. Division commander Lt. Col. Oleksandr Hladysh, battery commander Captain Rostyslav Kmet, platoon commander Senior Lieutenant Oleksandr Shytikov, gun commander Junior Sergeant Oleksandr Kryshtapyuk, senior gunner Senior Soldier Yaroslav Nyul... Artillery units. Always effective. Thank you, warriors!
Our glorious Rear Admiral Mykhailo Ostrogradskyi 35th Separate Marine Infantry Brigade... Following f almost every day of fighting, these guys deserve our appreciation. And today I'd like to note separately their entire 1st Marines Battalion. I thank each of you, guys! Your strength is an example to all.
And also, the defenders of our sky. Such as Anatoly Pavlenko, a National Guardsman with the anti-aircraft missile division Bureviy. A guy who has learned how to shoot down Russian missiles extremely well – with the help of just an Igla MANPAD. Thanks for your precision!
We usually thank the soldiers who defend our cities from Russian terror with the help of powerful air defense systems: Patriots, NASAMS, IRIS-T, and others. And it is absolutely fair – they saved a lot of lives of our people, a lot of infrastructure facilities.
However, there are also important – and effective! – soldiers from our fire maneuver groups, who cover various civilian and military objects. As, for example, Senior Sergeant Viktor Sidnev is the senior of one of these maneuver groups protecting Kyiv. Excellent coordination, excellent combat skills. And there is a result – downed missiles launched by the invaders. Thank you!
I thank everyone who is fighting for Ukraine! I thank everyone who is on their combat posts and on combat missions! I thank everyone who constantly trains our soldiers and everyone who treats our heroes for their injuries!
And I am asking you all: please do not forget to personally thank our soldiers. Those whom you know personally. Those whom you may just follow on social media. Those whom you just heard about and can tell other Ukrainians, our people. Gratitude is always important, and it is important to hear that you are appreciated when you fight for your people like this.
Glory to all our heroes!
Glory to Ukraine!"